Beijing, as the capital of China, has a long history and splendid culture. At the same time, it has beautiful mountains and rivers, numerous sceneries and beautiful seasons! How to tour Beijing? This may be the question most first-time tourists want to ask. In order to make it more convenient for tourists to visit Beijing, the author offers a series of "X-day tour in Beijing".

Previously, the author has recommended:

However, if you want to visit Beijing for three days, here are some recommendations.

1.The Summer Palace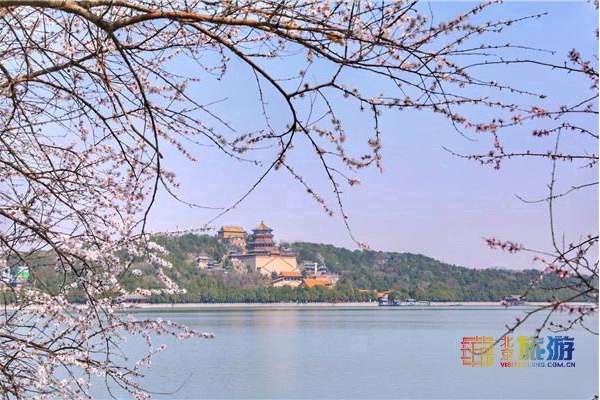 The main scenic area of the Summer Palace is composed of Wanshou mountain and Kunming Lake. The whole park covers an area of 3.08 square kilometers, and the water surface accounts for about three quarters. There are 70000 square meters of palaces and gardens in the park, which are famous for their precious cultural relics. It is the first batch of national key cultural relics protection units and 5A scenic spot.

The Summer Palace, formerly known as Qingyi Garden, was built in 1750 (the 15th year of Qianlong's reign) of the Qing Dynasty. In 1860 (the 10th year of Xianfeng's reign), it was burned down by the British and French allied forces. In 1886 (the 12th year of Guangxu's reign), the Qing government began to rebuild it with the capital misappropriated from naval construction and other funds. Two years later, it took this name as the home for Empress Dowager Cixi. In 1900, it was destroyed by the allied forces of the eight countries and restored in 1922. After the founding of the People's Republic of China, after several repairs, the Summer Palace has successively rebuilt four major scenic spots, namely, Buzhou, Suzhou street, Jingming tower, Danning hall, Wenchang yard, Geng Zhitu, etc.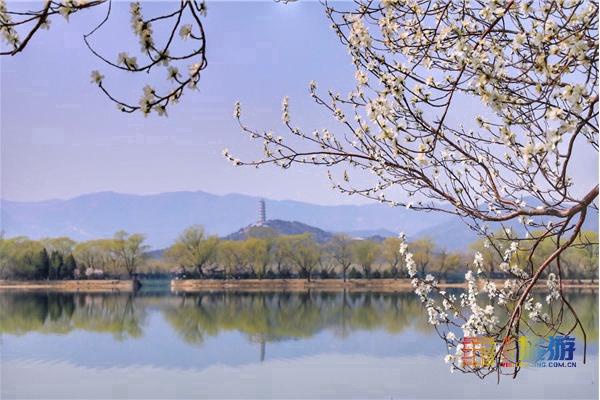 The Summer Palace integrates the great achievements of traditional gardening art. By virtue of the surrounding landscape environment, it not only has the magnificent momentum of the royal garden, but also is full of the interest of nature. It highly embodies the gardening principle of "though made by people, it seems like created by the god".

In December 1998, the Summer Palace was listed in "The World Heritage List" by UNESCO, and was evaluated as follows: the Summer Palace in Beijing is an outstanding exhibition of Chinese landscape architecture art, which integrates man-made landscape and nature harmoniously; the Summer Palace is the concentrated embodiment of Chinese gardening thought and practice, which play a key role in the development of oriental artistic and cultural forms; the imperial garden of China represented by the Summer Palace is a powerful symbol of one of the world's major civilizations.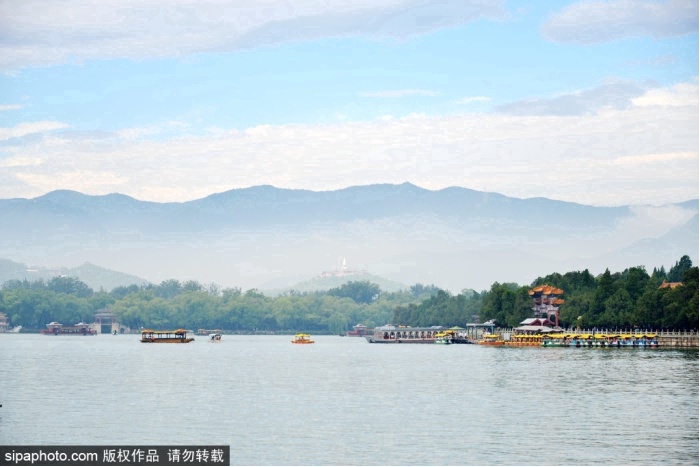 As a royal garden, the Summer Palace has not only profound cultural heritage, but also very beautiful natural scenery. It has its own beauty in the four seasons as well. In spring, when the spring flowers, especially the peach blossom in the West Bank of Kunming Lake, are blooming, "the red bank and the green willows are picturesque"; in summer, a pool of mountains and rivers is in front of the eyes when rowing on the Kunming Lake; in autumn, the red leaves are full of the garden, and especially in the mid autumn and the eleventh period of each year, the fragrance of the garden is refreshing; around the winter solstice, the most famous landscape of the Seventeen Hole Bridge is "golden light through the hole"; in the late winter, the Kunming Lake turns into a natural outdoor skating rink, and if you are lucky, you may also enjoy the beautiful scenery of snow in Xishan.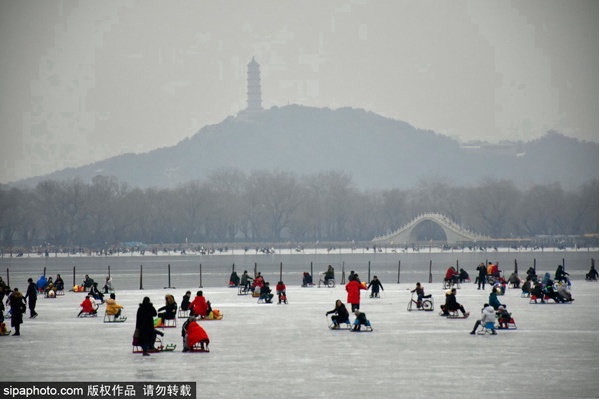 Tingli Restaurant

In the Summer Palace, you can also enjoy delicious food in the Tingli restaurant. It was built in 1750. It is one of the 13 main buildings in the Summer Palace. It was originally built by Emperor Qianlong for his mother's birthday, and later for Empress Dowager Cixi and royal members to watch plays, listen to music and have a feast. Now it is a time-honored Chinese restaurant, national super restaurant, and famous Chinese medicine restaurant.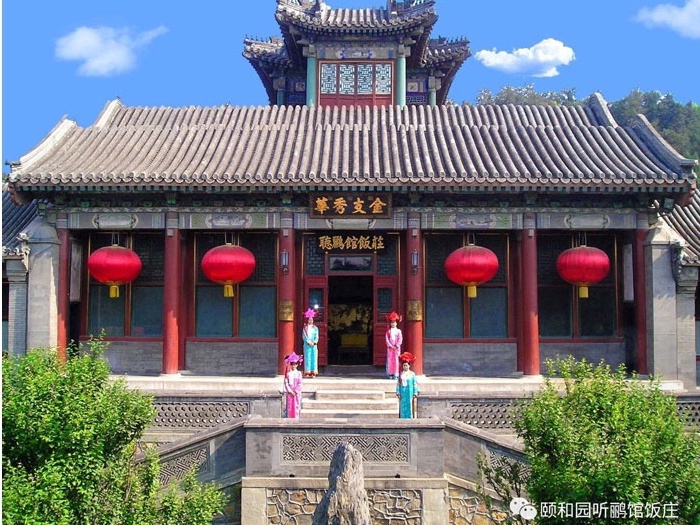 Since its opening, it has received more than 200 heads of state and government at home and abroad, including Zhou Enlai, Deng Xiaoping, Queen Elizabeth II, George Bush, etc. It covers an area of 5626 square meters, with seven restaurants and ancient theatres, including Shoushan hall, Fushou hall, Yaoshan hall, etc. It can accommodate 500 people at the same time and is an ideal place for business banquets, family gatherings and various types of activities.

Tingli restaurant is a famous restaurant in authentic palace style. Based on the menu of Shoushan hall in the Summer Palace and other palace archives, it has made continuous research and innovation, forming a palace dish with good color, fragrance, taste, shape and meaning, which is suitable for the taste of modern people. In particular, the palace pasta, baozi stuffed with red bean paste, baozi stuffed with winter vegetables, pea cake, kidney bean roll, steamed bun made with corn flour, etc. made with secret recipes are well-known at home and abroad.

There are also ancient theatres in the restaurant. While enjoying delicious food, you can also enjoy opera, palace dance and quintessence Peking Opera. You can enjoy different styles of wonderful performances while enjoying the authentic palace longevity meal.

Tel: 010-62881955

(Note: during the epidemic period, there are only take-out foods)

Opening hours:

Peak season: April 1 to October 31, opening time of the gate: 6:30-18:00, opening time of the gardens inside: 8:30-17:00, closing time: 20:00.

Off season: November 1 to March 31 of the following year, opening time of the gate: 7:00 to 17:00, opening time of gardens inside: 9:00 to 16:00, closing time: 19:00.

No admission is allowed after ticket sales are stopped. Please leave on time.

Ticketing information:

Tickets for the Summer Palace: 30 yuan/piece (peak season), 20 yuan/piece (off-season); ticket-sets for the Summer Palace: 60 yuan/piece (peak season), 50 yuan/piece (off-season); gardens in the park: Dehe Garden 5 yuan/piece; Wenchang Garden 20 yuan/piece; Buddhist Pavilion 10 yuan/piece; Suzhou Street 10 yuan/piece.

(Note: 1. Ticket-sets include tickets for the main park and sub-parks inside. 2. There are preferential tickets for main tickets, ticket-sets and sub-parks inside. Preferential tickets is15 yuan; preferential ticket-set is 30 yuan; preferential tickets for sub-parks are half of its original tickets respectively.)

How to buy tickets?

(Note: during the approved opening hours, the maximum instantaneous tourist capacity of the Summer Palace is 50000, and the maximum daily tourist capacity is 120000.)

East gate: subway line: Xiyuan station of line 4; bus lines: No. 330, 331, 332, 346, 584, 594, 375, 563, 508, 579, 303, 584, Night bus No.8.

North gate: subway line: Bei Gong Men station of line 4; bus lines: No.330, 331, 332, 346, 584, 594, 375, 563, 508, 579, 303, Night bus No.3.

Xinjiangong gate: bus lines: No.374, 74, 437, 952.

South Ruyi gate: with parking lot; bus lines: No.374, 74, 437, 952.

West gate: with parking lot; bus lines: No.469, 539.

North Ruyi gate: no buses, railways, or parking lots temporarily.

Address: A 23, Gong Men Qian Street, Haidian District, Beijing.

Tel: 010-62881144

2.Yuanmingyuan

Yuanmingyuan was built in 1707, the 46th year of Kangxi's reign. It is composed of three parks, including Yuanming, Changchun and Yichun. Covering an area of 350 hectares, with a building area of nearly 160000 square meters, it is a large royal palace built and operated by the emperors of the Qing Dynasty for more than 150 years.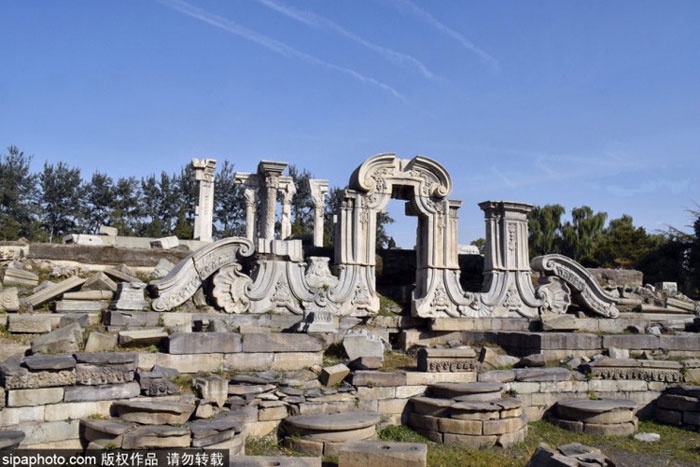 Yuanmingyuan, once famous for its grand regional scale, outstanding construction skills, exquisite architectural landscape, rich cultural collection and profound national cultural connotation, is known as "the artistic model of all gardens" and "the garden of ten thousand gardens". In October 1860, it was ransacked and burnt by the British and French allied forces.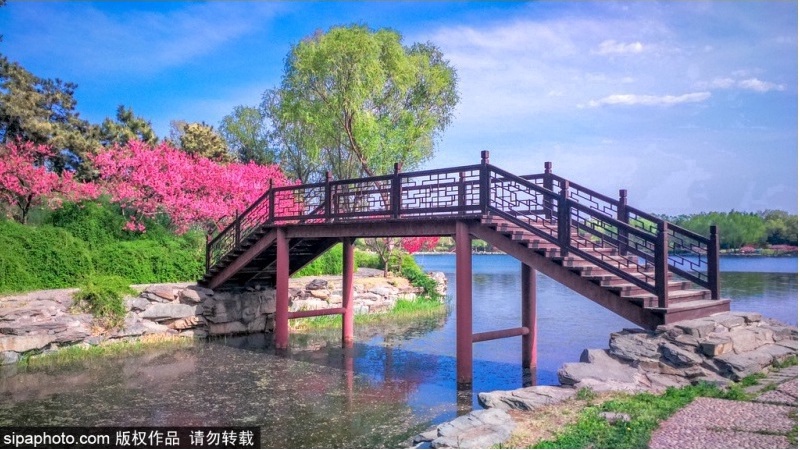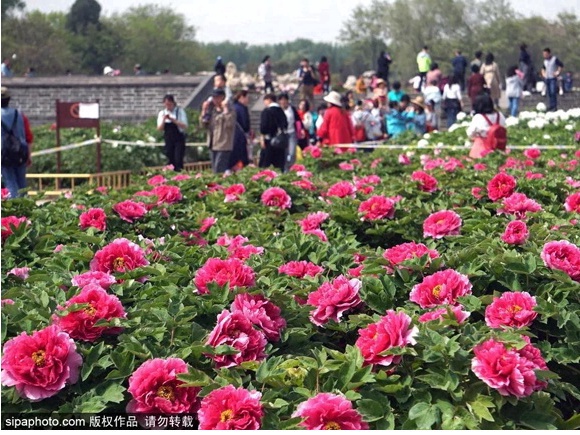 In November 1976, Yuanmingyuan Management Office was established. In January 1988, Yuanmingyuan Heritage Park was announced as a national key cultural relics protection unit. On June 29, 1988, Yuanmingyuan Heritage Park officially opened to the public. After two times of land acquisition in 1990 and 1993, it recovered all the land use rights of the scale of Yuanmingyuan in its peak period. In September 1996, it was named as patriotism education base by six ministries and commissions; in November 1998, it was named as "Beijing national defense education base" by Beijing National Defense Education Commission.

In September 2000, the State Administration of Cultural Relics officially approved "the Planning of Yuanmingyuan Heritage Park". On October 12, 2010, it won one of the "new 16 sights of Beijing" and became one of the latest 16 business cards representing the charm of Beijing. Now it is a national 5A tourist attraction.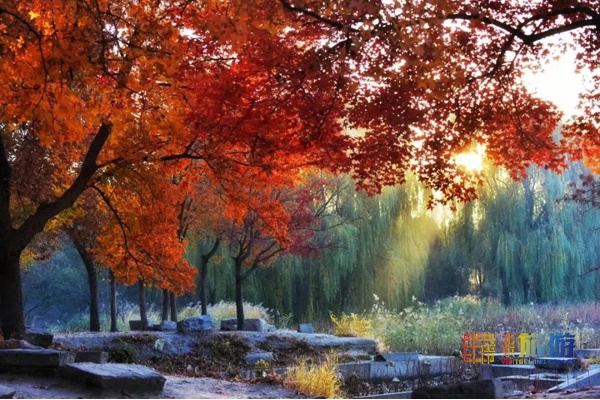 Today's Yuanmingyuan Heritage Park, with heritage as its theme, has formed a unique tourism landscape with a combination of solidified history and a vibrant landscape atmosphere. The mountain and water systems in the open area of the three gardens have basically restored their original historical features, reproducing its unique charming sceneries. A plant landscape with the theme of pine, bamboo, willow and lotus has been preliminarily formed. Hundreds of thousands of trees have become a forest, and seasonal flowers are like rosy clouds. Some important sites have been protected and renovated, and a small number of garden buildings have been rebuilt and reappeared their former brilliance, such as the new palace gate of Qichun garden, Jianbi Pavilion, Changchun Garden European maze. The base sites of some buildings can still be found; several rockeries and stacked stones can still be seen; and the remains of stone carvings at the Western Hall site are even more remarkable. The whole Heritage Park has formed a large heritage community represented by the Western Hall, which gives people profound historical enlightenment. It has not only the natural flavor of the mountain and forest, but also the characteristics of the relic site and the function of the park as well, which is really a rare place to rest and visit.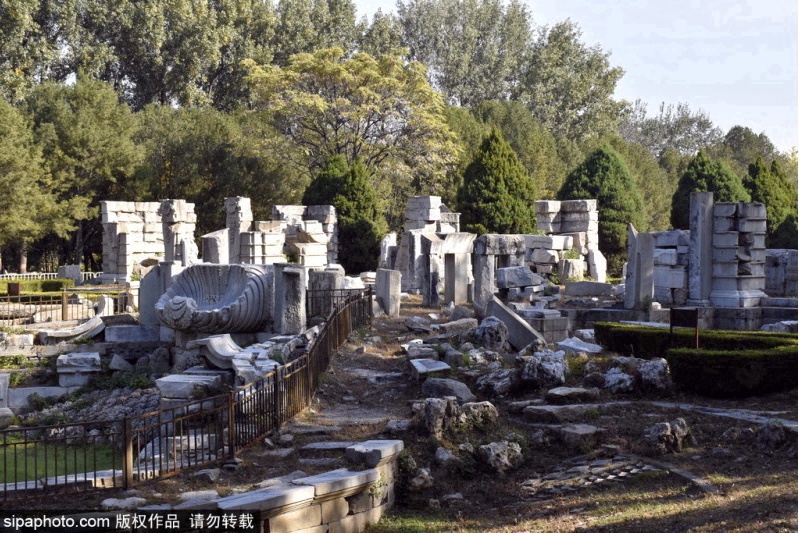 The Yuanmingyuan has undergone vicissitudes. If the ruins of the Great Foundation can be called a broken remain and relic, there are also large stones everywhere in the garden. Looking at the introduction beside, it can't be imagined that these places used to be halls and pavilions. Maze site is also a must go place. There is also a place in the park that must not be missed, that is, the place where the twelve animal heads are copied. There is an image introduction of the twelve animal heads in the room. Some of these national treasures have returned to the motherland, but some are still missing. When you visit the Yuanmingyuan, you will deeply realize that the prosperous times are not easy to get, and it will also inspire your patriotism.

Zhengjue temple is the only surviving ancient architecture in Yuanmingyuan. It is of great significance to study the history of Qing Dynasty and the architectural style of Yuanmingyuan.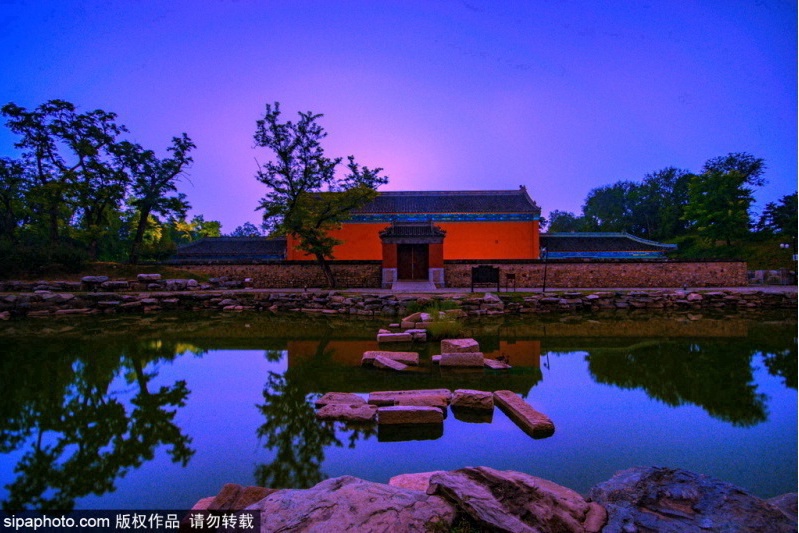 From the perspective of natural landscape, the Yuanmingyuan is also full of flowers in spring; the most pleasant scenery in summer is the view full of lotus flowers. On the huge lake, the cruise ship runs between the lotus flowers, and the scenery can be compared to the beautiful Baiyangdian; in autumn, the garden full of red leaves, especially the ginkgo avenue near the east gate, is eye-catching; in winter, it not only is solemn, but also has a different mood.

Huajiayiyuan

If you want to eat delicious food, you can go to Huajiayiyuan. This restaurant is a famous restaurant near Yuanmingyuan. It specializes in Beijing cuisine, including roast duck and eight Beijing snacks. The dishes that are more distinctive and popular are: Baye milk duck, Yiyuan Bawang chicken, Baqi lamb chop, Huajia cabbage, etc. The environment is also good, and it is convenient to park.

Telephone number of Huajiayiyuan: 010-51283379

Ticket information:

The ticket office is located in the gate of Qichun Garden (5 ticket windows, 8 ticket windows during holidays), the east gate of Changchun Garden (2 ticket windows), Ergong gate (1 ticket window), and the Zao Garden (1 ticket window).

Ticket for main gate: adult ticket: 10 yuan/person; half price ticket: 5 yuan/person; monthly ticket: 15 yuan/month per person [from 25th to 31st of each month, handle in the ticket office at Qichunyuan palace gate and the East gate with a 1-inch photo and the bottom plate of the monthly ticket (cost: 0.5 yuan);

Adult tickets for Xishuanglou site scenic spot (including the Great Fountain, exhibition hall and maze): 15 yuan/person; half price tickets: 5 yuan/person;

Yuanmingyuan grand panoramic model exhibition: adult tickets: 10 yuan/person; half price tickets: 5 yuan/person;

Transportation:

Bus lines: (1) Buses arrive at Qichunyuan gate: No. 331, 432, 498, 628, 664, 690, 696, 697; (2) Buses arrive at Changchunyuan east gate: No. 432, 717, 982, Special No.4; (3) subway lines: Exit B at Yuanmingyuan Station of Line 4.

Self-driving: location and charge of parking lots: (1) parking lots for cars: 110 parking places outside Yichunyuan gate and 80 parking places at Changchunyuan east gate; (2) parking ofr bikes: outside Yichunyuan gate. Charges: all day (0:00-24:00), 2.5 yuan/15 minutes for compacts and 2.5 yuan/15 minutes for full-size cars.

Address: No. 28, West Tsinghua Road, Haidian District

Tel: 010-82670330

3.South Luogu Lane

After visiting the royal gardens in the daytime, you can continue to visit South Luogu Lane, the most popular alley in Beijing, in the evening. South Luogu Lane was built in the Yuan Dynasty. It is the only Beijing Hutong that preserved the texture of "fish bone" Hutong and the pattern of chessboard in the Yuan Dynasty. It used to be the residence of dignitaries and dignitaries in the past dynasties. It has more than 740 years of historical relics and has collected different architectural styles since the Yuan Dynasty.

Today's South Luogu Lane is one of the must-visit places for tourists in Beijing. There stand various shops on both sides.

Shop 1: cosmetics shop full of soaps

The store, with fragrance everywhere and a strong republican style, is known as "China's first makeup" shop. It reminds visitors of Shanghai style in Zhang Ailing's works. The shop also sells all kinds of soaps. There are several similar cosmetics stores in South Luogu Lane, and they seem to sell similar products. It seems that these goods are very popular.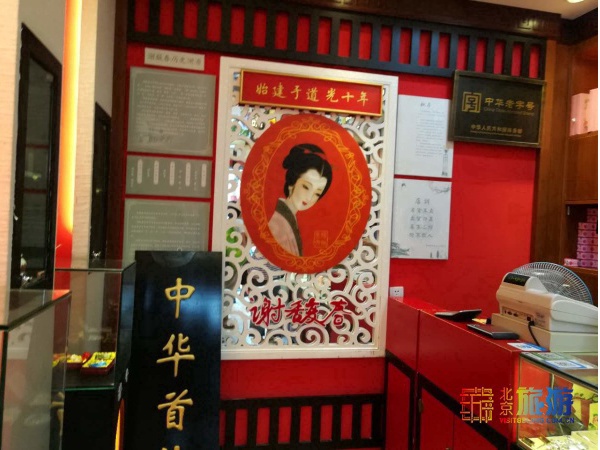 Shop 2: A silver shop where silverware is polished on site

There is more than one silver shop there. Because it's on-site, it's very popular with tourists.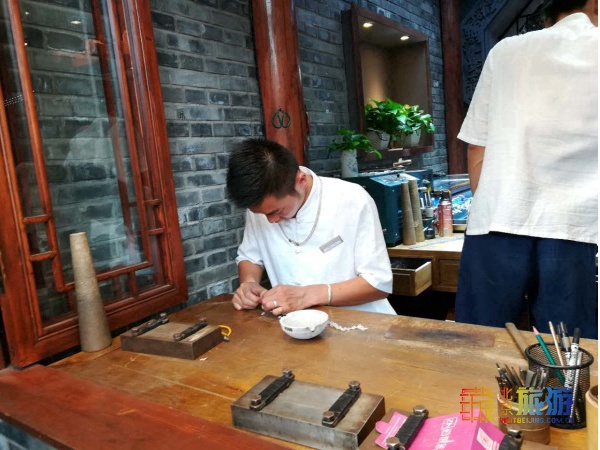 Shop 3: Sugar figure making

The shop with most Beijing flavor is the one with the skill of "sugar figure making". A man with a strong Beijing style, a small pot of burnt yellow sugar, and a bamboo stick, all the things needed for "sugar figure making" are ready. If interested tourists want to blow, he will dip a small lump of sugar with a bamboo stick, and then pull it out to let the tourists directly blow with the extracted sugar. Then the lump of sugar will become hollow and gradually become bulging. With uncle's smart hands, it will eventually become different kinds of cute animals. The most incredible thing about "sugar figure making" is why a lump of small sugar has become a hollow pipe handled by the man! Perhaps, this is the key to "sugar figure making" becoming intangible cultural heritage!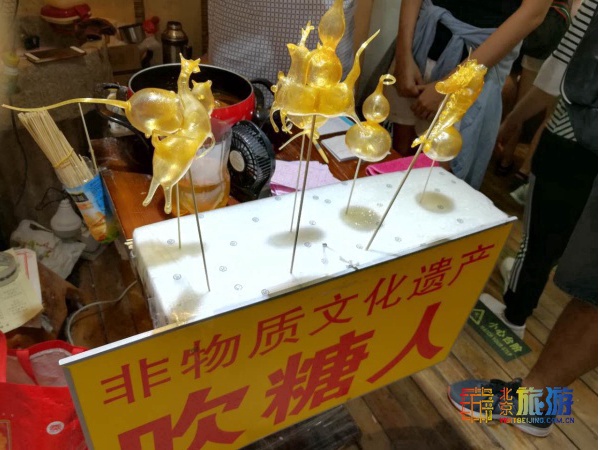 Shop 4: a shop selling postcards

With the popularity of electronic products, not only paper letters have gradually withdrawn from the stage of history, but also postcards, which were once very popular among the public, have almost faded out of people's sight. However, there are several small shops selling postcards in South Luogu Lane. Moreover, it is obviously popular with tourists. Many tourists will choose some postcards that they like to represent Beijing and stamp them with the postmark provided by the owner. In addition to postcards, there are other literary and artistic notebooks, small decorations, small pendants, etc. There are also ancient bamboo slips.

Bars at South Luogu Lane

Among the noisy shops, there are many bars in South Luogu Lane. Compared with the hustle and bustle streets, the bar is quiet and hazy. On normal days, the tourists in the bar either drink alone, or drink with each other, or get together with a few people, which looks very harmonious. There is a feeling of "you stand on the street to see the scenery, and the people watching the scenery look at you in the house". The tourists in the bar may be also enjoying the Hutong style of the capital leisurely!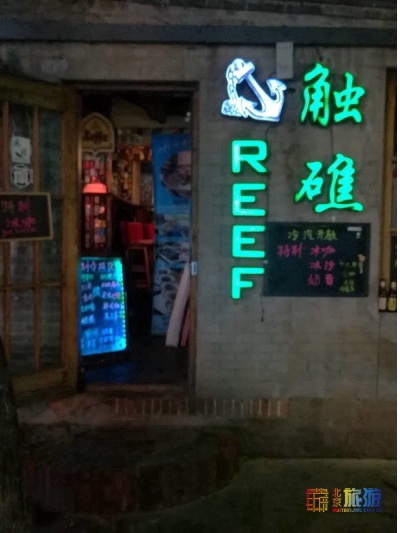 In South Luogu Lane, there are other stores with special features. For example, there is a shop that specializes in selling Tibetan jewelry, which has a very authentic Tibetan style.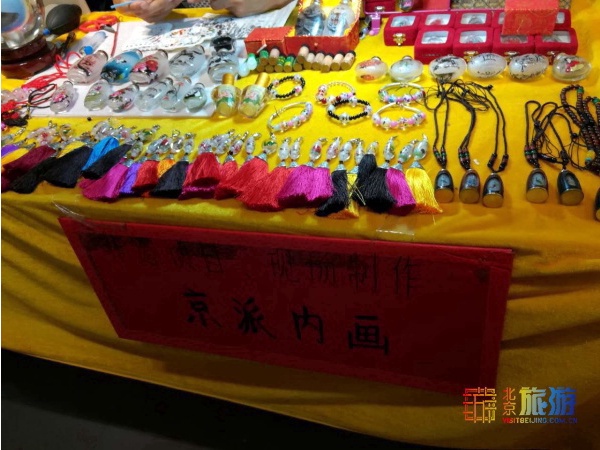 Delicious food in South Luogu Lane

When travelling, the most enjoable thing is eating while strolling. As the most popular alley in Beijing, South Luogu Lane has many delicious v foods. The signboard of "ten delicacies of nanluo" can be seen everywhere. You can buy it anytime you want. The biggest characteristic is not only delicious, but also unique, for example, crab soup dumplings, double layer milk custard, etc. These snacks are first of all unique in appearance, which has aroused the curiosity of diners. Who doesn't want to taste such unusual food?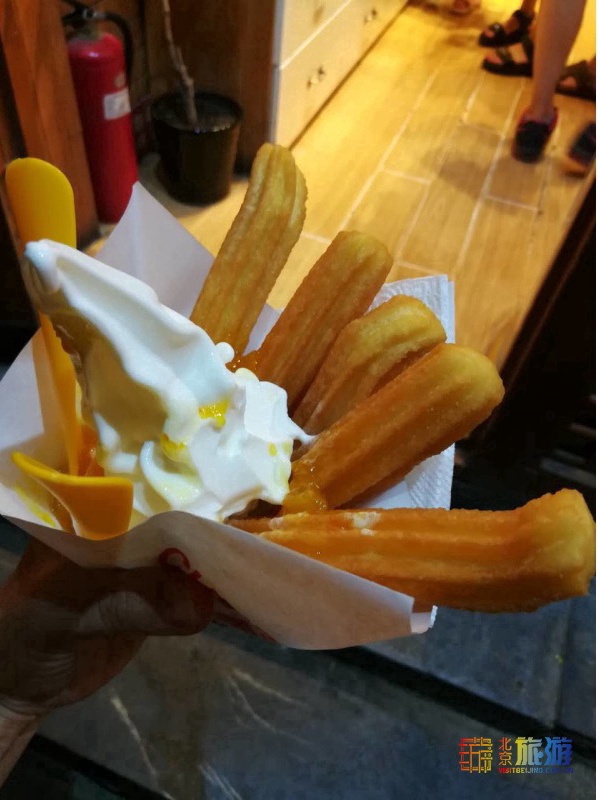 Beijing specialty at South Luogu Lane

At a typical tourist attraction in Beijing, Beijing specialty stores will certainly be available. There are not only Beijing specialty stores selling preserved fruits and other portable products, but also a time-honored brand store and Nanluo folk culture museum.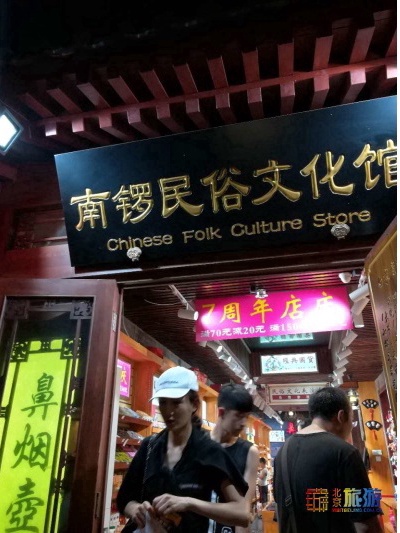 Accommodation at South Luogu Lane

Although the price of the land is extremely expensive, there are places to live. Beiping International Youth Hotel, which is well known to many tourists, is located in an alley on the west side of the main street of South Luogu Lane.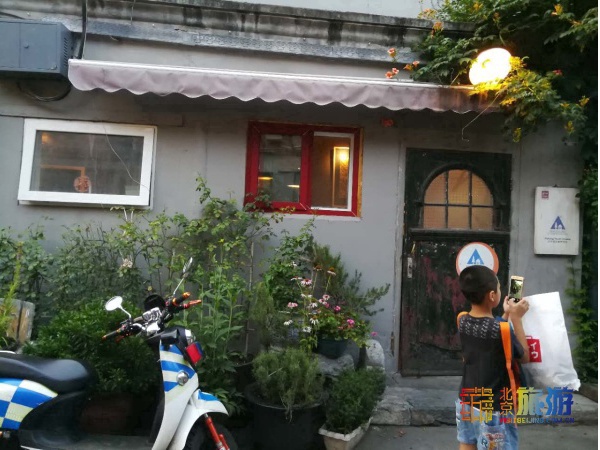 The "gate" of this youth hostel is very small, just a small single door. This "small and exquisite" appearance is very consistent with the alley style of South Luogu Lane!

Transportation: Nan Luo Gu Xiang Station of Subway line 8 and 6.