Beijing Suburb Resorts are either located in mountains and by rivers, or with idyllic and poetic style, or with picturesque scenery of ancient charm, combined with their unique cultural heritage, all displaying their attractiveness. Come to these quiet and warm yards, enjoy the blowing cool breeze, smell the grass fragrance, count the stars, and fall into dreams with the sound of insects, streams, and waters at night. What a superb experience! It is so beautiful just by imagining, then why not come and give a hug to these places with the coolness of summer!

Beijing Jingzhihu Holiday Hotel

Summer, lake, pavilion, mountains, wind, sunset... Jinghu Lake Resort is definitely a natural oxygen bar in city.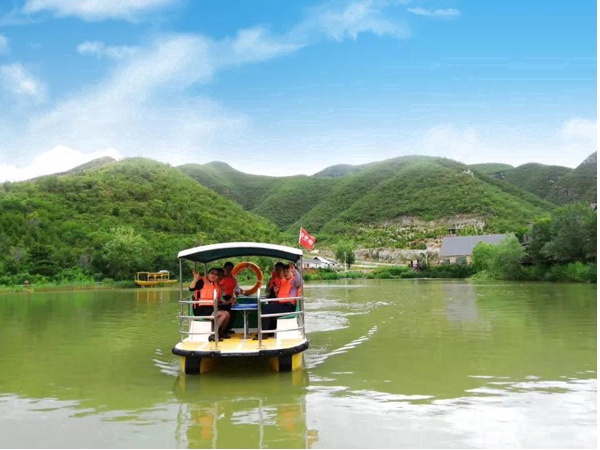 The boat cruise experience at Jinghu Lake Hotel has already open to the public. On the north side of the city, Kid's Paradise, Huashui Bay, and Yanshan Mountains far in the north... beautiful lakes and mountains, why not take your kids to Jingzhi Lake for a cruise? When summer heat begin to spread in Beijing, tender breeze blows across the lake from the mountain stream, you can sit in the cool pavilion in the middle of the lake, or in a quiet boat sailing on the lake...

There are many activities here for you!

1. Family PARTY

Join with your children and let them feel being loved, draw the most beautiful and colourful facial masks and puppets, and take them with you.

2. Family fish-touching

Jingzhi Lake Huashuiwan is full of red fish, catch them with your babies, and trace your own childhood memories (you can take the fish back home, but do remember to be kind to it).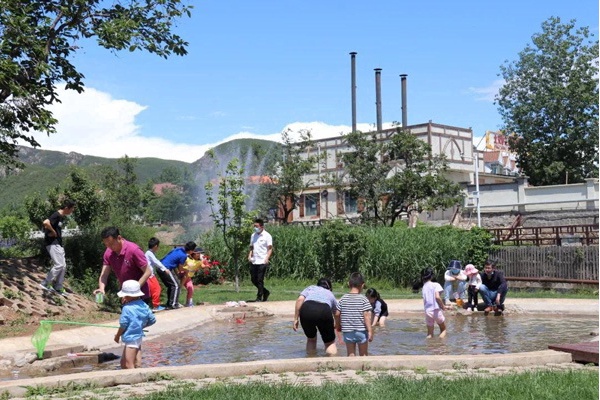 3. Kid's Paradise

An entertainment site specially provided for children. It is an ideal combination of opening up children's nature and education, and guiding both parents and children to grow up healthily.

4. Vegetable-picking (2 kg)

Lettuce, leeks, fennel, cucumbers, tomatoes, beans, etc., parents who love cooking, come and explore the pure green vegetables here.

5. Parent-child tandem bicycle

Moms and Dads, come with your little kids to ride in Jingzhi Lake Scenic Area!

6. Scenic area

Lavender flowers, cherry blossom gardens, rose gardens, zodiac gardens, forest walks and rest, this is a hidden place for photo taking, if you are a photography enthusiast, you will find these places really fascinating.

7. Municipal Forest Park

Jingzhi Lake City-level Forest Park has a beautiful environment, and there are hundreds of birds in the mountain forest. Everything is so quiet, but shows vigorous vitality.

Address: Taoyukou, Xingshou Town, Changping District, Beijing

Gubei Water Town

At the foot of the Simatai Great Wall and the shore of Yuanyang Lake, this is a charming town that will make you feel like living in a paradise. Here, breathing in fresh air rich in negative oxygen ions, wandering in the primitive and unpretentious streets, looking at the winding Great Wall and the green mountains, staying healthy and rejuvenating with the people you love or love you. Everything will nourish your health, your spirit and your heart.

Walking along the valleys, the grass is in great leisure; enjoying the gorgeous scene of the sunset, the bird is in great leisure; breeze blows the green wicker, the leaves are in great leisure; wandering in the long pavilion by the water, people are in great leisure; rowing on the boats on lakes, the night is in great leisure; in the quiet and beautiful houses, the doors are in great leisure.

Gubei Water Town is a place where you can put everything down, a place where you can put your heart at rest. Suc calmness flows into every inch of land in the town, and also melts into the hearts of every tourist. In the small town, in the fresh breeze, you will suddenly feel cheerful; under the ray of sunshine, you will know about warmth.

When you slow down, you will truly realize how sweet and harmonious the birds sing, you will see how treetops shake gently in the breeze under the blue sky, and you will really see every flower as "lives".

Come to Gubei Water Town to enjoy the greenery and see the flowers, play with water by the stream, singing and dancing on your way, enjoy your spiritual feelings which are compatible with nature and full of vitality.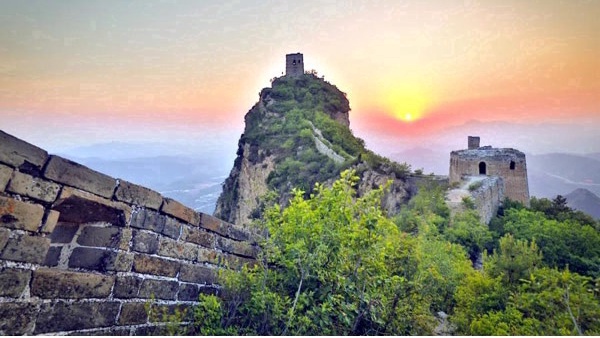 The Simatai Great Wall, which locates on the steep mountainous terrain, was built in the Ming Hongwu period. It is the most complete Ming Dynasty Great Wall in existence. The Simatai Great Wall is elaborately conceived and uniquely designed, combining many characteristics of the Great Wall in one place.

There are not only common types of Walls, but also "half-walls" which are adapted to the mountain shape near the cliffs; there are both horse trails that stretch along gentle slopes, and "ladders" that are stacked with large steps on steep slopes. Dangerous mountains and astonishing scenery makes climbing even exciting. Getting on the Arrow Tower to look afar, you can awe at the beauty from earth to sky: undulating grass, floating wild clouds, and the nearby Gubei Water Town is slowly expanding like a beautiful picture of daily life.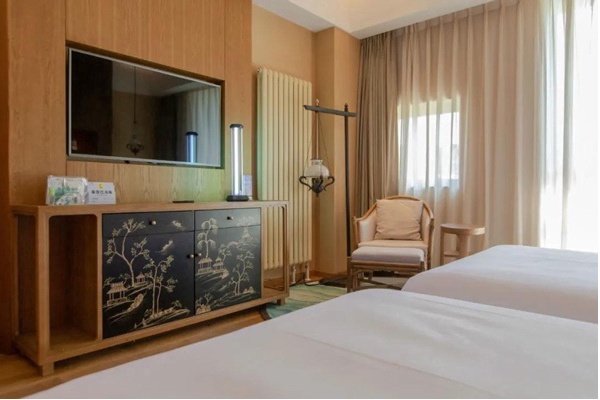 Tel: 010-81008136

Address: Simatai Village, Gubeikou Town, Miyun District, Beijing

Baihe Anbian Resort

Baihe Anbian Resort in Beijing is backed by the Yunmeng Mountain Range, facing the Baihe Grand Canyon, and close to the Qinglianggu Scenic Area. Here you can see the mountains and the beautiful winding Baihe River, from which the resort got its name.

The resort covers an area of 50 mu, carefully planned by famous designers and built with advanced green and environmentally friendly building materials, it is based on environmental protection concepts. After 13 months, 46 standard rooms, 3 townhouses, 4 individual courtyards, and 1 leisure suit, 17 deluxe standard rooms, 7 triple rooms, and 4 parent-child rooms have been built to meet the needs of different tourists, allowing all of them to rest well.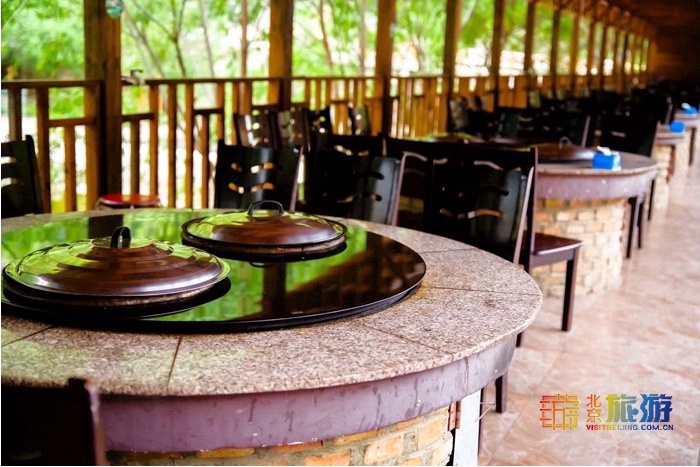 The resort has an auditorium that can accommodate 240 people at the same time. It is clean and bright, both the dining table and chairs are designed to match the elegant style of the room to make people feel comfortable. Most of the walls are designed as landscape windows. The pleasant mountain scenery outside the window is accompanied by the afterglow, increase the fun and atmosphere of dining!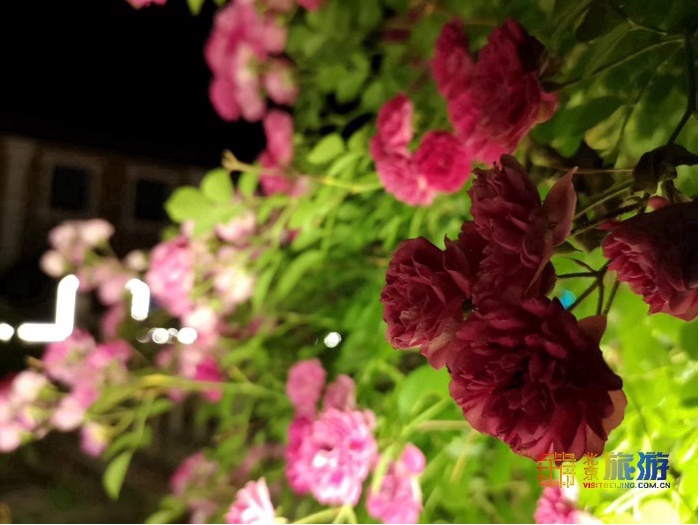 The White River Shore Resort is two-bedroom and one-hall with a unique small courtyard. The small courtyard has a total of 2 bedrooms, and the king-size bed room matches with the standard room. The living room comes with a mahjong machine, leisure courtyard, solid wood tables and chairs. China Roses of various colours, lilacs on gates of the courtyard, all forming an artistic view of the small bridge, flowing water and households. The aroma of nature exudes makes people involuntarily take a deep breath.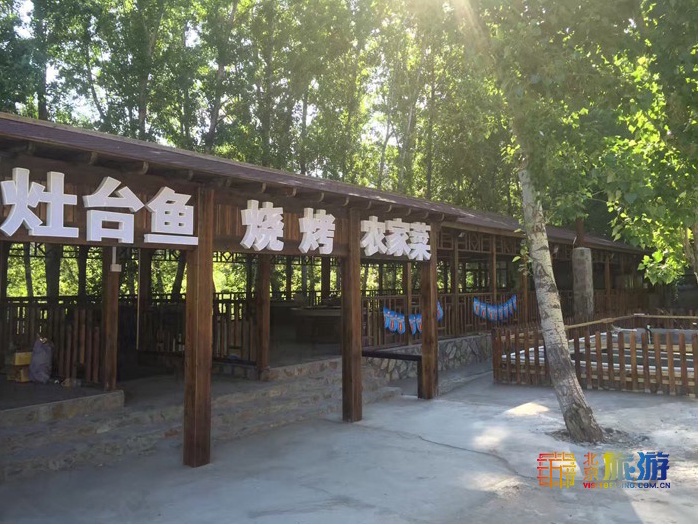 Drinking tea and talk with a few friends or families, and you will find yourself enjoying it easily! The Resort has hired chefs who specialize in Northeast fish and Sichuan spicy dishes to carefully prepare delicate dishes and flavours for everyone! Come and enjoy the rare wild village fun of reservoir fish and farm dishes!

Address: Jiayu Village, Shicheng Town, Miyun District, Beijing

Miyun World Flower Ocean Featured Manor

Miyun World Flower Ocean Scenic Area is located in Chedaoyu Village, Miyun District, Beijing, covering an area of more than 1,800 mu with a core area of 300 mu. Blessed with unique geographical advantages of surrounding mountains and rivers, it provides a modern leisure holiday estate with lavender and other herb parks for sightseeing, film and television photography shooting base, sightseeing and picking, mansion accommodation, beach and paddling and special dining and entertainment services.

In addition to the beautiful Flower Ocean, tourists can also visit the Simatai Great Wall, Yaoqiaoyu, Wuling Mountain, and Gubei Water Town, whose popularity is soaring. These scenic spots are all about 20km away from the Flower Sea, which is a colourful land rippling under high mountains; here you will find the fresh breeze after rain, and the coolness in summer created by agricultural landscape. It is absolutely an ideal holiday tourism area for self-driving tours in the suburbs of Beijing.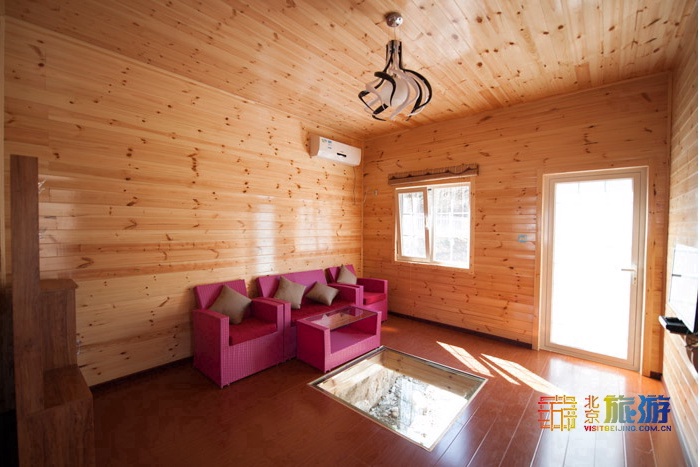 Featured wooden mansions: There are two types of wooden mansions in the scenic area. One is a floating wooden house built on the river channel, which uses natural, healthy and highly compatible wood to ensure the beauty of the wooden house while taking environmental protection, heat preservation and energy saving into consideration. The wooden house is built independently, and you can choose from a variety of room types (one/two/three rooms and one hall), which not only guarantees the safety of tourists, but also provides a completely independent space for families. The other is the RV chalet (one room and one hall) by the beach.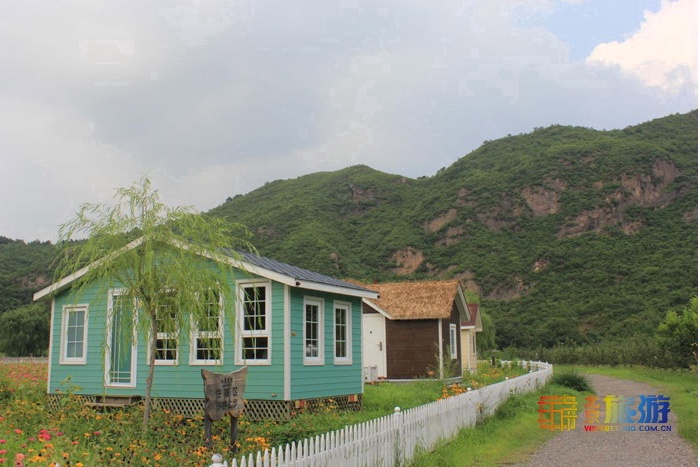 When tired of playing, you can directly go into the room for a rest, avoiding the fatigue of long distance walking. You can choose from two room types according to your needs. With flowers as a companion in nature, the scenic area provides tourists with a comfortable environment. Wake up in the morning, you can open the windows and let a light floral scent come in. Walking on the wooden plank road in the morning, the sun is not too hot and the breeze is just tender. At noon, the chalet is cool and comfortable. You can turn on the air conditioner, eat watermelon and drink cold drinks, sit on bamboo and rattan furniture and watch TV series. In the evening, sitting on the balcony, sipping a pot of hot tea, chatting with family, or watching fish swimming under the glass floor the living room... All are beautiful sceneries in themselves.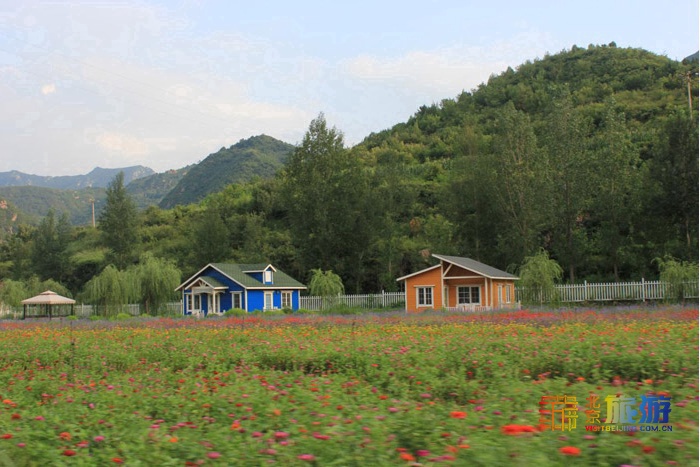 Tel: 010-69039181

Address: Chedaoyu Village, Taishitun Town, Miyun District, Beijing

Chunhui Garden

In the midsummer when all kinds of anxiety come with the heat, it is just the time to walk into the shadowy Chunhui Garden. Summer coolness comes unexpectedly, and everything is hidden in the green world. This is the charm of the summer in Chunhui Garden.

Fresh like a poem and misty like a song, walking along the winding stone path, you can enjoying yourself in the refreshing air. In this cool summer refuge with freedom and joy, no matter how anxious or restless you are, this eye-catching greenery will make you at ease with tranquillity.

The fresh breeze blowing on face brings the fragrant of grass, just like the best wine from Yaochi, it soothes all your physical and mental fatigue.

When you are free, invite some friends to go to Chunhui Garden, find your favourite place with greenery and freshness in the shadowy garden.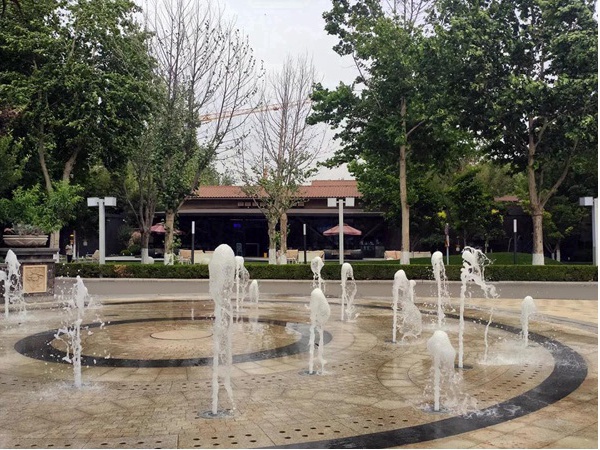 Before reopening to welcome all customers, Chunhui Park has thoroughly cleaned and disinfected all open spaces. The staffs will strictly implement various anti-epidemic measures. In addition to measuring body temperature and checking health codes, they have also strengthened the disinfection of public areas to make tourists feel more at ease on holiday.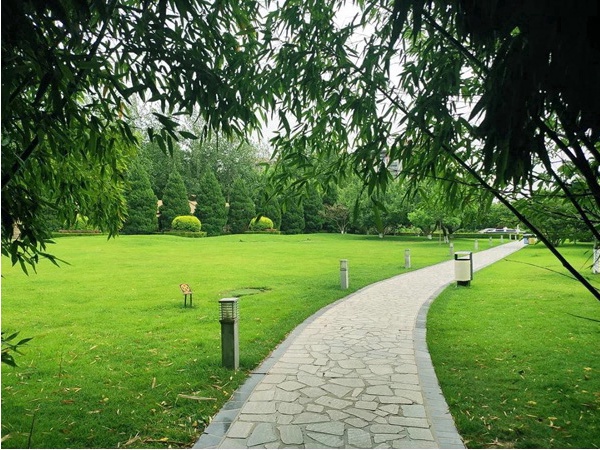 Tel: 010-69454433

Address: No. 37, Yuzhuang Section, Gaosi Road, Gaoliying Town, Shunyi District, Beijing

6. Heyuan Jingyi Hotel

Heyuanjingyi Hotel has a fairyland-like forest. With the peach blossom land of mountain flowers a forest oxygen bar covered with high oxygen, you will enjoy a unique and peaceful rural life when living here.

Living in a room and enjoying a touch of blue. The room view of Heyuan Jingyi Hotel is blessed with great natural resources. In the morning, the birds chirp, the water runs, and the fresh air enters your body through every breath. Standing in such great scenery, you will become a character in the painting, pursuing authenticity, and be a natural elf.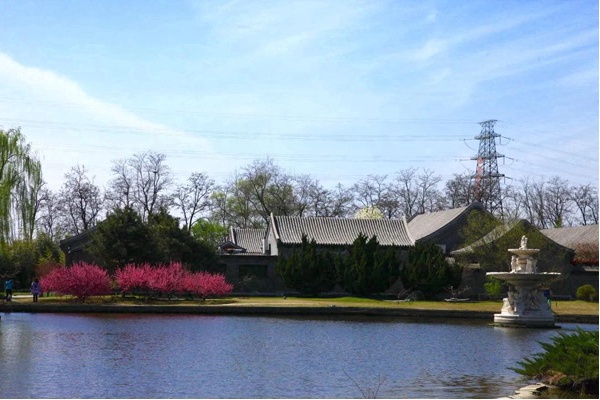 The lush grass is the source from where children hug nature. Don't worry if they fall down, as their body is carrying the sweetness of nature, and can fully release their talent to play. The European-style Finnish wooden house is a paradise to accommodate kids.

For a delicious meal, you can enjoy a family feast in the Forest Oxygen Bar. Sitting in an Irish villa in the shaded sunlight, the dappled light and shadows illuminate the dining table, an English-style romantic afternoon tea will soon makes you enjoying yourself!

Dining Location: Outdoor Restaurant in the Irish Villa

In the Qinyuanchun Chinese Restaurant on the first floor of the hotel, the simple and elegant environment and classic fusion cuisine, brings guests a new taste. High-quality ingredients, attentive service, and a satisfactory price is your choice for family gathering. Looking up at the sky, watching the ever-changing clouds, you may have a new understanding of following the law of nature and pursue your true self.

Tel: 010-69457777 and transfer to the reservation department

Address: District 2, No. 57 Bianhe Road, Houshayu Town, Shunyi District, Beijing

RGHCM Garden Resorts

RGHCM is a five-star resort located in the national ecological demonstration area, Miyun District.

It is a country villa resort with a diversified product portfolio for mid-to-high-end customer groups based in Beijing, Tianjin and Hebei in business, vacation, tourism, and conferences with international vision, five-star service standards, and experiential training features. The resort covers an area of more than 230 mu and a construction area of 57,000 ㎡. It has 447 different types of rooms including standard rooms, standard villas, standard suites, standard apartments, executive suites and luxury villas. All rooms are spacious, comfortable and elegant. There are 21 meeting rooms holding 10-500 people, which can meet the requirements of meetings of different sizes. In terms of catering, they have Chinese restaurant (including 22 private rooms), Western restaurant, special-flavour restaurant and two multi-function halls, accommodating more than 1,000 people to dine at the same time. They offer a wide range of recreational and sports activities, which are all avant-garde and fashionable. They also have a natural beach that can artificially create waves, the twelve-course American Brunswick bowling alley, shuffleboard, billiards and so on. It is an ideal place for conference, tourism, vacation, leisure and business.

Tel: 010-89098888 and transfer to the reservation department

Address: No. 2, West Bridge Road, Miyun District, Beijing

Yunhu Resort

Yunhu Resort is located on the banks of the beautiful Miyun Reservoir. With its unique geographical advantages, naturally fresh and beautiful environment, it enjoys the reputation of "natural oxygen bar". Open your arms gently, close your eyes slowly, and take a deep breath. Away from the noise of the city, the fresh air, together with the sound of insects and birds, will purify both your heart and soul.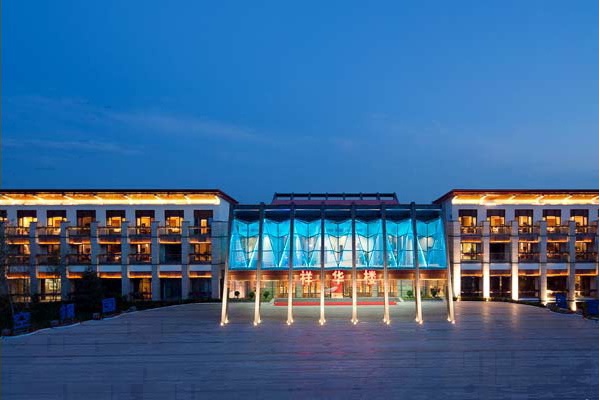 Tel: 010-61021991; 010-61021992

Address: Yunhu Resort, Xiwengzhuang Town, Miyun District, Beijing