The gorgeous Beijing suburbs surrounded by mountains and rivers are famous for their picturesque scenery. In Spring, the mountains are covered with flowers, becoming the first choice for Beijingers to travel around; in summer they are lush as a perfect place to escape the summer; autumn mountains are the favourite destination for Beijingers to enjoy the red leaves; winter snow and ice makes the mountains a fairy tale world. The ice-falls and ice lamps in Yanqing are particularly fascinating.

Yanqing is located in the northwest of Beijing at the foot of the majestic Great Wall and on the banks of the beautiful Guishui River. It is blessed with the best air quality, the highest forest greening rate, the best clean index, the largest wetland area, and the richest tourism resources among the 16 jurisdictions of Beijing.

Yanqing is one of the first national demonstration zones for holistic tourism, the venue of the 2019 Beijing World Horticultural Exposition, and one of the three major competition areas for the Beijing 2022 Olympic Winter Games. This year, Yanqing District was successfully selected as one of the top 5 "2020 Destination Tourism Wish Index" released by Ctrip.com. Therefore, Yanqing's tourism resources are very rich and of high quality.

Currently, there are three highways entering the hinterland of Yanqing: Jingxin, Jingli, and Jingzang, as well as the well-known "Train to Spring" Line S2, and the opening of the Beijing-Zhangjiakouo high-speed railway has also included Yanqing into Beijing's one-hour life circle. It has opened up traffic barriers and the choice of multiple modes of transportation has greatly improved the convenience of coming to Yanqing. Today, we would recommend to you the fourth route of Yanqing self-driving tour: Self-driving Tour in Mountains and Rivers - Travelling on the most Gorgeous Road in Yanqing.

Day 1: Four Seasons Flower Sea Tour → Lunch at Wucaihe Noodles → Go to Qianjiadian Bailly Gallery "the Most Beautiful Highway" Luanchi Road with a rent or your own bicycle → Go for a ride along the trail → Check in Bailly Village Hotel → dinner at the hotel

Four Seasons Flower Sea

The Four Seasons Flower Sea starts from Liubinbao Village in Liubinbao Township in the west, to the Nantianmen Village in Zhenzhuquan Township in the east, and passes through Liubinbao, Sihai and Zhuzhuquan Townships, with a total length of 47km. Sihai Town covers an area of 8,600 mu, with all kinds of flowers such as marigolds, lilies and roses. Every year from June to October, hundreds of flowers here bloom one after another, making it an ideal place for sightseeing, photography, leisure, and vacation. Every year from July to September is the best time to come and see the flowers.

Address: From Liubinbao to Sihaiyanliu Road, Yanqing District, Beijing

Tel: 010-60187019

Wucaihe Noodles

Sihai Town is characterized by its Four Seasons Flower Sea landscapes, combined with the theme of Expo flowers, they have created the cuisine of colourful flowers. 16 flower dishes make up a table of flower Expo, with their lovely fragrance and charm. Chrysanthemum can calm the stomach and intestines, honeysuckle relieves heat and detoxifies, and roses promote blood circulation. When you put roses into sweet and sour ribs, you will find the pork tender and smooth inside and crispy outside with attractive in colour. With its special fragrance, the dish provides you double satisfaction of vision and taste.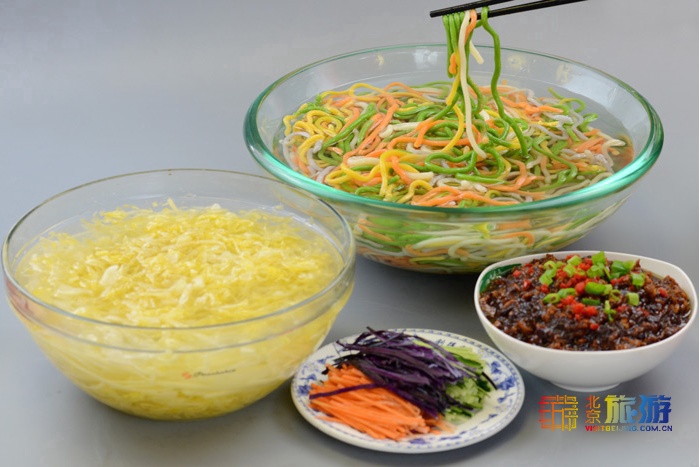 Address: Huahai Villa, Nanwan Village, Sihai Town

Tel: 010-60180960

Baili Landscape Gallery (AAAA)

Panoramic view of Dripping Kettle in Baili Landscape Gallery

Beijing Yanqing Baili Landscape Gallery Scenic Area is located in Qianjiadian Town in the northeast of Yanqing District. It is the core area of Yanqing Ecological Conservation Area, covering 371 km², and is 40 km away from Yanqing downtown and 110 km away from the Beijing city. Luanchi, Huaqian, and Huasha highways pass through the town and form a loop. In 2007, this convenient route was rated as the top 10 best routes for self-driving tours in Beijing. On September 17, 2010, with the approval of the National Tourism Administration and the National Tourism Scenic Quality Rating Committee, it became the first large-scale national 4A-level tourist scenic spot in Beijing covering the whole town and realizing the "unified view of the town". It is now one of the four major Yanqing World Geoparks.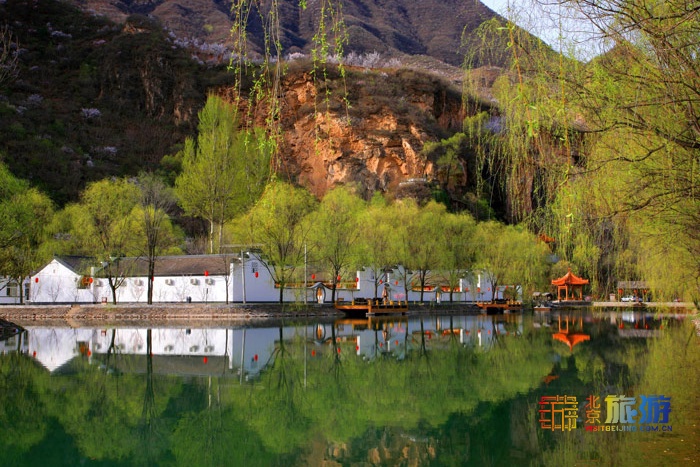 Existing ticketing scenic spots such as siliconized wood clusters, Wulong Canyon, Dripping Kettle, Chaoyang Temple, Longwang Temple, Guandi Temple, and rural tourism reception village "Households in Mountains and Waters" such as Xiushuiwan, Changshouling, Gujiayao, Xiawan, etc. and countless geological science and natural human landscapes including Little Kunlun Mountain , Shu Jian Peak, marine sedimentary remains, dinosaur footprint fossil remains, Caimugou Paleolithic site, Wenchang monument, Datan Nature Reserve, thousands of acres of sunflower sea and Scutellaria tea garden. Among them, Beijing Yanqing Petrified Wood National Geopark is the main body and the important part of the Baili Landscape Gallery Scenic Area. It is the first landscape in the country that features typical, rare, and precious silicified wood clusters. Integrating tourism, leisure, vacation, and popular science investigation in one, it is a comprehensive national geopark.

Address: Qianjiadian Town, Yanqing District, Beijing

Tel: 010 – 60188022

Bailixiang House

Bailixiang House is located in Dashiyao Village, Baili Landscape Gallery Scenic Area, Qianjiadian Town. Surrounded by mountains, it is far away from the city, and is blessed with fresh air. The buildings retain the original appearance of the ancient village, and thanks to modern architectural design techniques, they have made full use of old objects and building structures. While preserving the culture of the ancient village as much as possible, the elements of modern comfort were not sacrifised at all.

Address: Dashiyao Village, Qianjiadian Town, Yanqing District, Beijing

Tel: 010-60188186

Day 2: Breakfast at the hostel → Yudu Mountain Tour → Spring Water Tofu for lunch → Return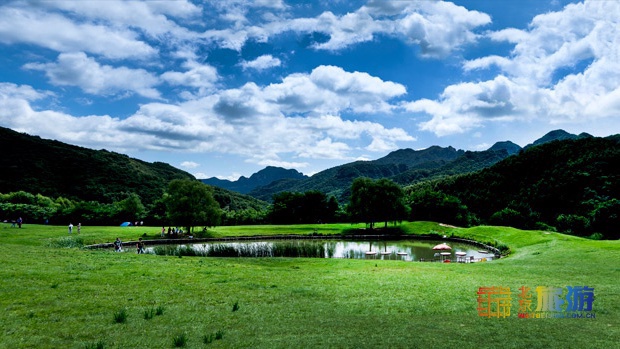 Yudu Mountain (AA)

Yudu Mountain Natural Scenic Area is located 10 kilometers away from downtown Yanqing, at the upstream of Longqing Gorge Scenic Area and the foot of Haituo Mountain. Located in a deep mountain with very few people, the scenery here is beautiful and quiet. The scenic area is lush, with rivers flowing in mountains and birds singing around flowers in all seasons. The green world covers an area of 75 km² and the plant coverage rate is higher than 90%. Gorgeous combination of forests in mountains, rivers, birds and flowers make up the scenery of this quite valley.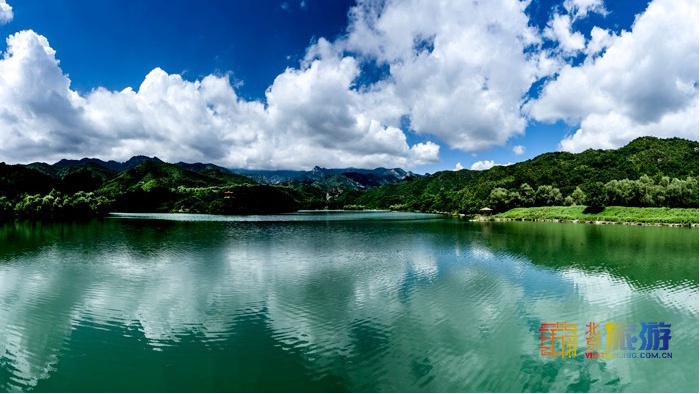 Here, you can find the buds in early spring, great vitality in summer, colourful plants in autumn, and silver trees and snow in winter. The scenery here is gorgeous in all seasons. You can enjoy yourself playing water, fishing, camping, or participating in Yudu Mountain outdoor expansion, popular science summer camp, outdoor camping festival, Yudu Mountain ice climbing, Yudu Mountain "red tourism" and many other activities, enjoy the leisure and sightseeing in nature. In Yudu Mountain, you can not only find regular tours in mountains and rivers, but also the largest comprehensive outdoor base in Yanqing District. They are also holding various outdoor team-building activities.

Address: Zhangshanying Town, Yanqing District, Beijing

Tel: 010 – 69190336

Spring Water Tofu

At the foot of Yudu Mountain, there is a Yuhuangmiao Village, which rely on Beishan Mountain Spring. Taking advantage of their location, the village have created "Yudu Mountain Spring Water Tofu" after repeated research and experiments. Based on the traditional production method, they changed the water to spring water from mountains. From soaking and grinding soy beans to slag-smashing and spot-making, they use pure natural Yudu Mountain spring water in all processes. Thanks to this improvement, "Yudu Mountain Spring Tofu" is uniquely smooth, tender and fragrant. Local residents in Yuhuangmiao found business opportunities from the "water tofu" and launched the unique "water tofu" folk feast, boosting folk tourism industry rapidly.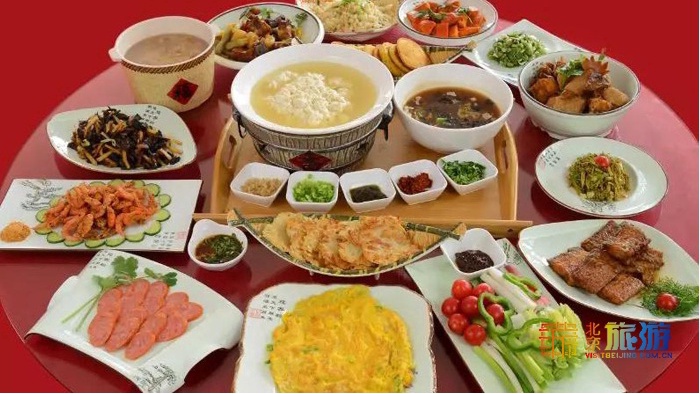 Address: Zhangkuan Farmhouse, Yuhuangmiao Village, Zhangshanying Town

Tel: 13693152418