As the capital of China, Beijing is blessed with long history, splendid culture and profound heritage; at the same time, the mountains and rivers and countless sceneries in Beijing are beautiful in all seasons! Then how to plan your trip to Beijing? Tourists visiting Beijing for the first time may have such worries. In order to make it more convenient for you to travel in Beijing, we will present you with the Beijing "N Day Tour" series of travel tips.What should be on your list if you are staying in Beijing for the sixth day?

1. Beijing Zoo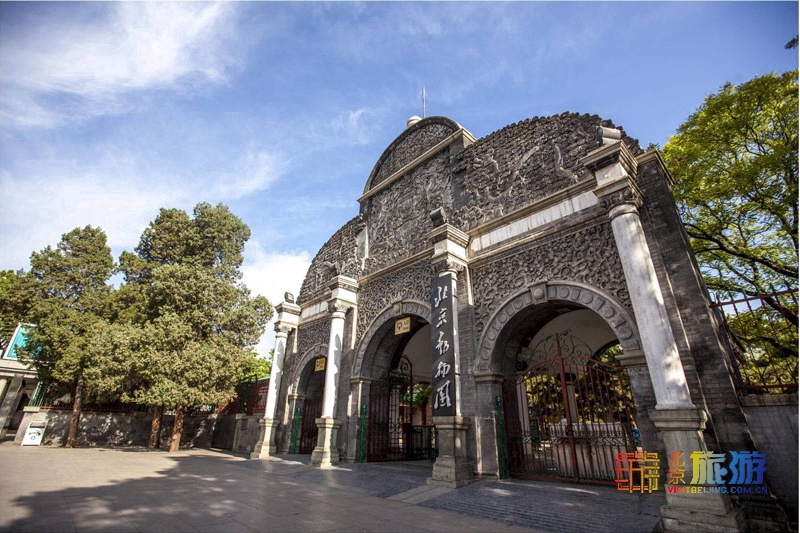 Beijing Zoo was founded in 1906 in the Qing Dynasty by the Commercial Department. Locating in the Qing Agricultural Experimental Farm, this place used to be site of the "Two Gardens, Two Temples" of Leshan Garden, Ji Garden, Guangshan Temple and Hui'an Temple outside Xizhimen. It consisted of three parts: zoo, botanical garden and agricultural experimental farm. At the very beginning, the zoo was located on the east side of this park, covering an area of 1.5 hectares. It is the earliest zoo open to the public in China and the earliest park open to the public in North China. It is said that this place is also the birthplace of modern Chinese zoos, botanical gardens, and museums.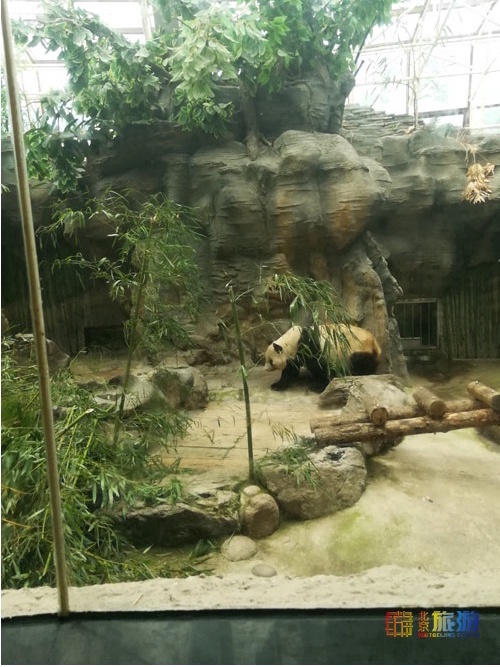 The Beijing Zoo officially got its name in 1955. It currently covers an area of about 90 hectares, raising more than 5,000 (of about 500 species) rare wild animals. It holds 5 million tourists from home and abroad every year and plays its role as national zoo. Adhering to the philosophy of "protect while educating, serve while securing", Beijing Zoo strives to build a business card of Beijing that showcases Beijing style to domestic tourists and the image of China to foreign tourists. Beijing Zoo is a National Park, A Major Historical and Cultural Site Protected at the National Level, National Science Education Base, and National 4A-level scenic spot.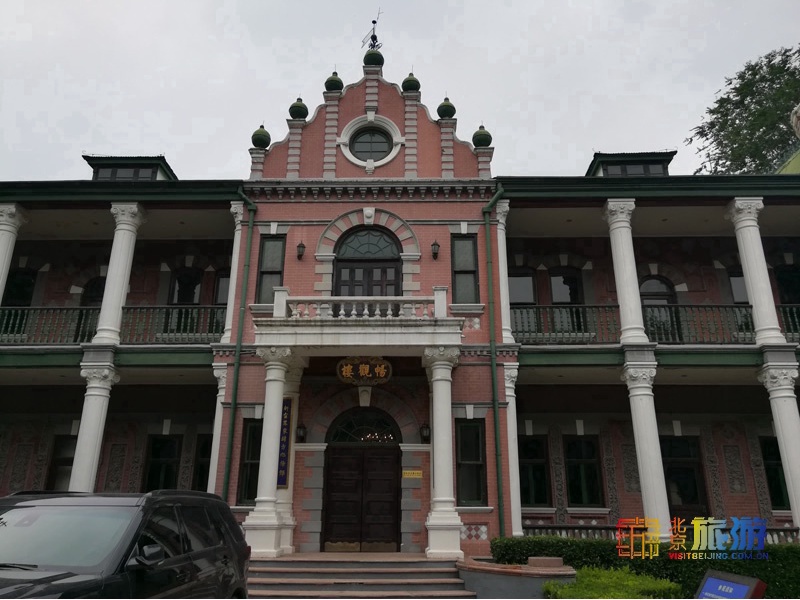 Time shifts and things change, the former Agricultural Experimental Farm is now the Beijing Zoo. Rockery and antique buildings, bridges and pavilions, rivers, springs and ponds, flowers and grass and vines, reptiles, fishes, animals and birds... All living together harmoniously. Scientific research, protection education, cultural exchange, knowledge dissemination, cultural relics gathering... Full varieties of function. Children's innocent and adults' childhood can both be found here. Spring flowers and autumn moon, summer breeze and winter snow. The old and young come together to enjoy the new season in this ancient garden.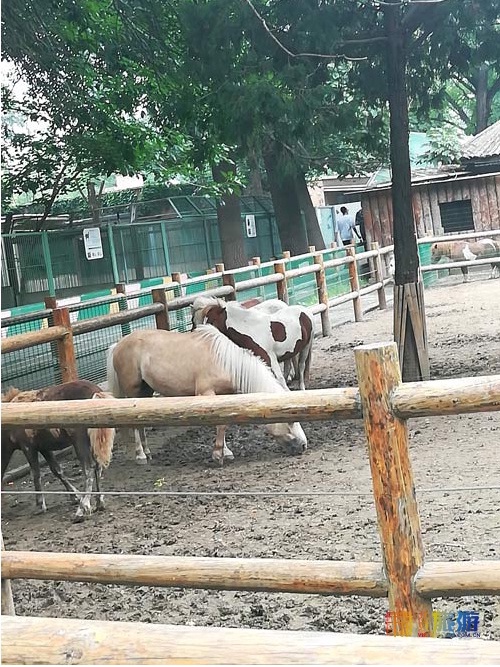 Opening hours: April 1st-October 31st: 7:30-18:00; November 1st-March 31st: 7:30-17:00;

Tickets: 15 yuan during the high season (April 1 - October 31), 10 yuan during the low season (November 1 - March 31 of the following year); coupon ticket (including Panda House and Beijing Zoo tickets): 19 yuan during the high season (April 1 - October 31), 14 yuan during the low season (November 1 - March 31 the following year); 10 yuan for tour bus.

Transportation: Metro Line 4, Beijing Zoo Station

Address: 137 Xizhimenwai Street, Beijing

Tel: 68390274

2. Beijing Planetarium and Paleozoological Museum of China

Beijing Planetarium and Beijing Paleontology Museum are adjacent to Beijing Zoo.

Beijing Planetarium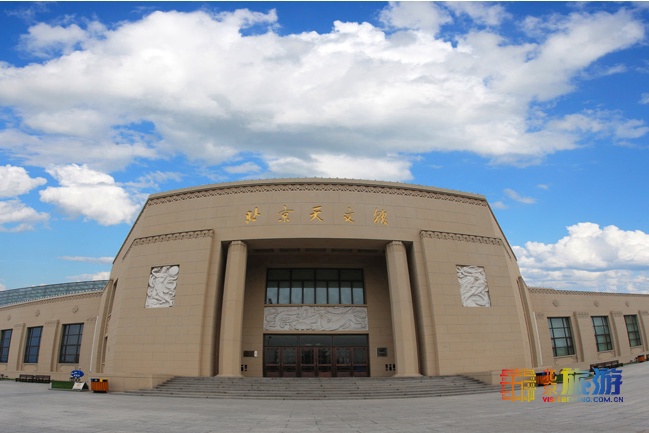 Beijing Planetarium is located at 138 Xizhimenwai Street, Xicheng District, Beijing, covering an area of 20,000 square meters and has a construction area of 26,000 square meters. It was officially opened to the public in 1957. Beijing Planetarium was the first large planetarium in China and the first large planetarium in Asia at that time. The Beijing Planetarium has attracted generations of audiences with its unique ways of presentation. Now it is a national AAAA-level tourist scenic spot.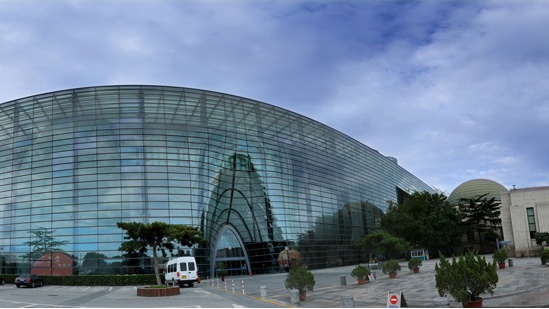 The Beijing Planetarium is divided into A and B Halls, with a total of 4 popular science theatres. The Planetarium Hall in Hall A is the largest ground-level planetarium hall in mainland China, and its internal equipment is at the leading level in the world. Among them, the Zeiss IX optical planetarium and the world's highest resolution all-sky digital projection system can not only realistically restore more than 9,000 stars visible to the naked eye on the earth for 400 audiences in the Hall, and up to 8K resolution spherical screen images It can also realize many functions such as virtual astronomical demonstration, three-dimensional cosmic space simulation and digital program playback.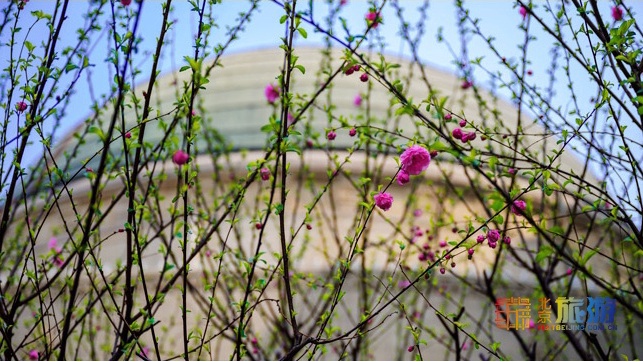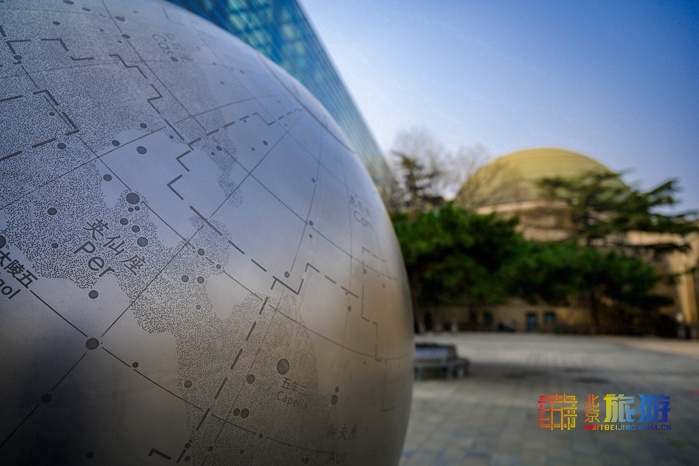 Hall B was officially completed and opened by the end of 2004. There are 3 popular science theatres including Cosmos Theatre, 4D and 3D Theatre, as well as various science education facilities such as astronomical exhibition hall, solar observatory, public observatory, astronomical classroom and so on. Among them, the Cosmos Theatre with a radius of 18 meters has a standard hemispherical full-sky screen, which can present a magnificent 3D sky screen effect for 200 audiences at the same time, which is unique in mainland China.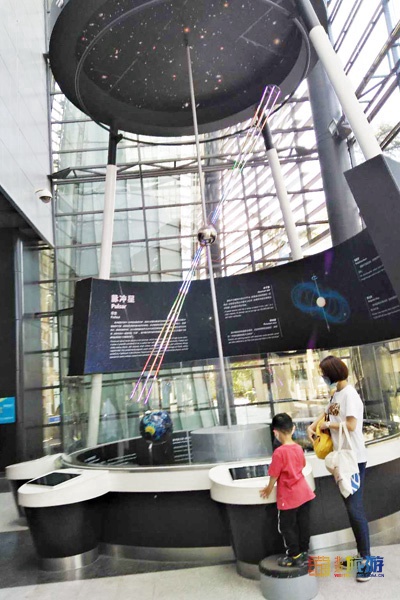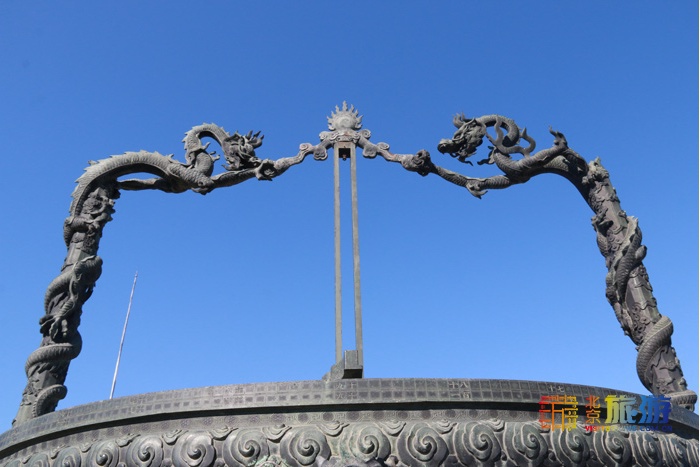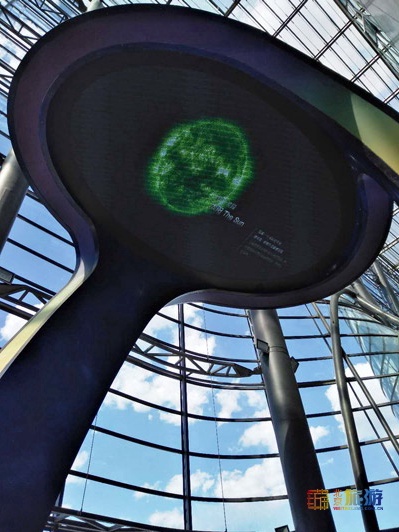 The 4D and 3D theatre have 200 and 116 seats respectively, both using the most advanced playback equipment and special effects equipment. The 4D theatre can not only present lifelike stereoscopic images, but also produce various special effects such as water spray, wind blow, and leg kicking according to the development of the popular science program plot, bringing the audience a wonderful immersive science experience. The 3D theatre has a 12m-wide and 9m high metal screen. Audiences will be equipped with 45-degree polarized stereo glasses, and popular science knowledge will be presented to the audience with a realistic and gorgeous stereo effect.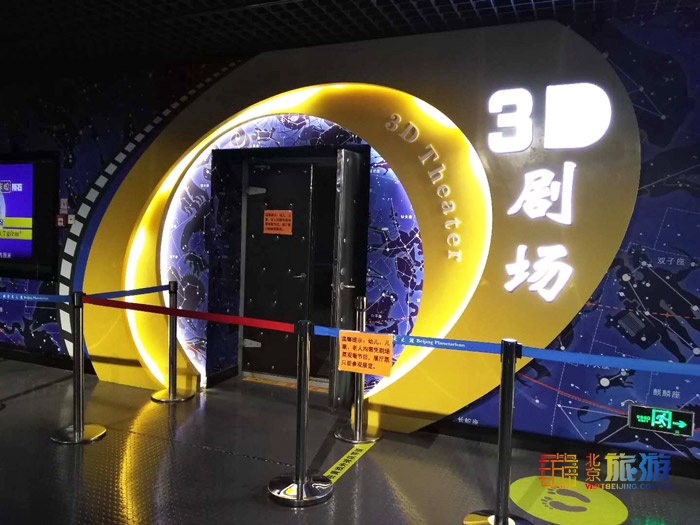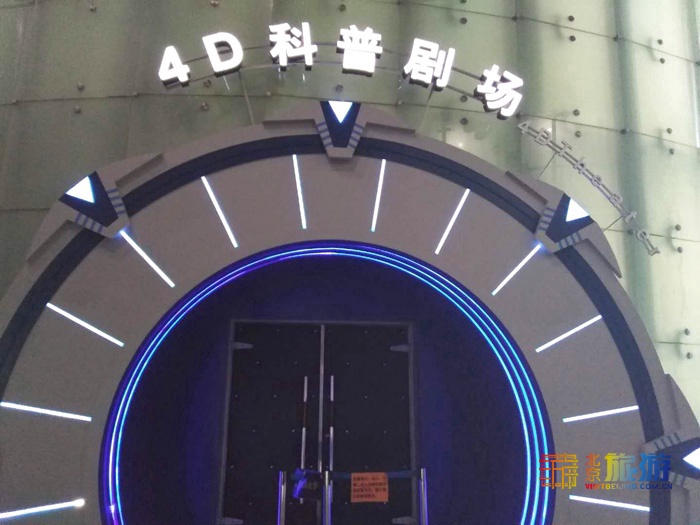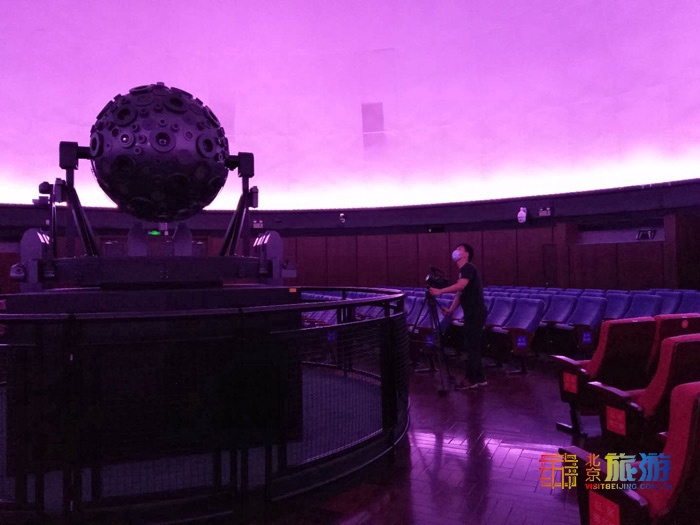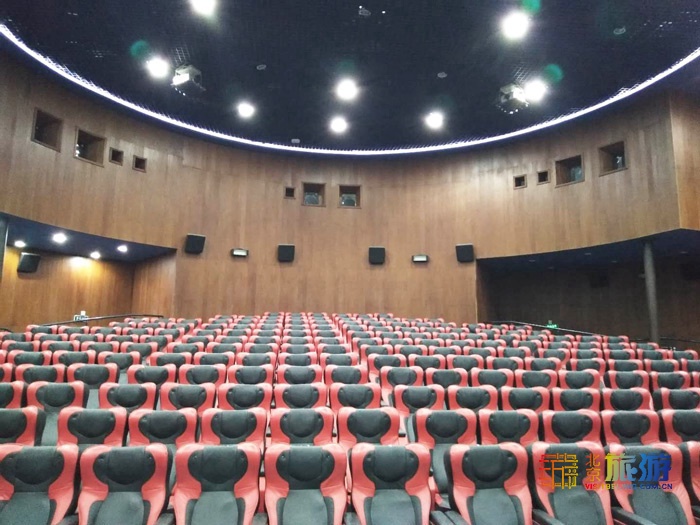 In addition to broadcasting popular science programs, various exhibitions held by the Beijing Planetarium, astronomy popular science lectures, astronomy summer (winter) camps and other activities such as "Stars are my good friends", "Celebrating the Chinese New Year in the Planetarium" etc. are also fascinating. It has already become a brand event that has attracted much public attention. The Beijing Planetarium integrates display and teaching. By organizing astronomy knowledge exhibitions and middle school students' astronomy Olympiads, editing and publishing astronomy popular science books and magazines "Astronomy Lovers", holding public observation and many other popular science activities, it has popularized astronomy knowledge to the public and has truly become a school without walls for children.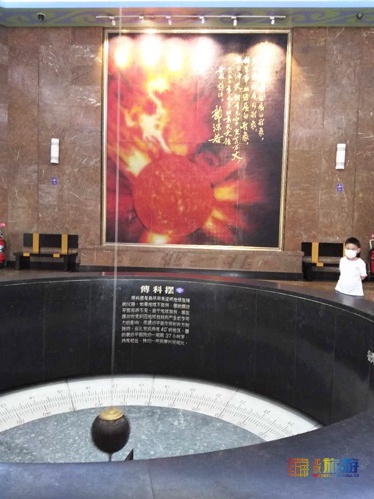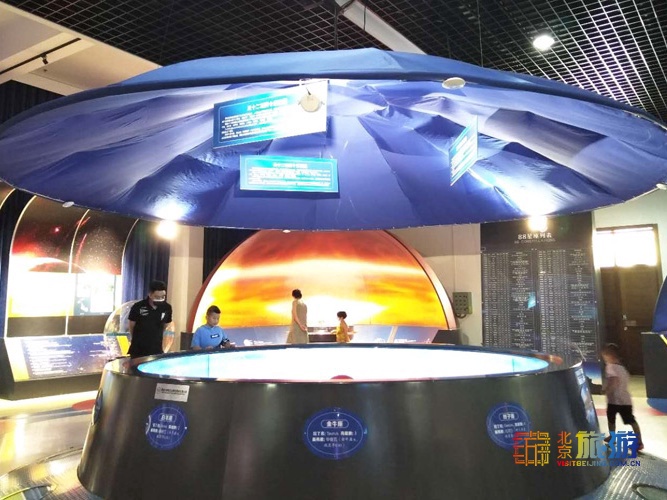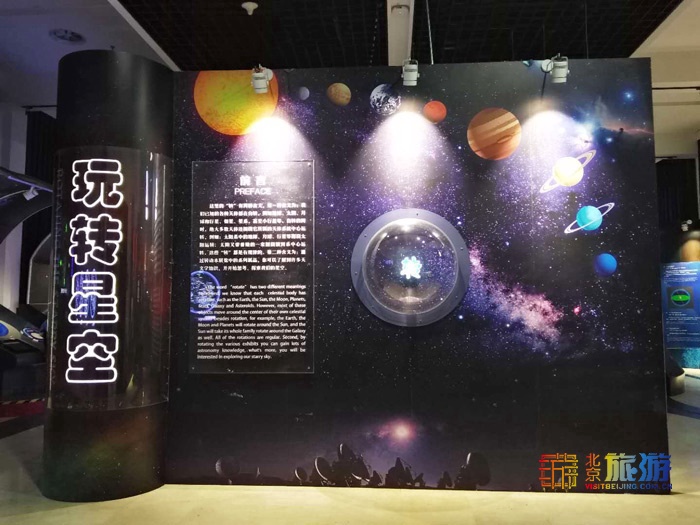 In 2007, the International Asteroid Centre issued an announcement to inform the international community that Asteroid No. 59000 was permanently named "Bei Guan Star", which refers to the Beijing Planetarium Star.

Opening hours: Wednesday to Sunday 9:00-16:30 (entering is stopped at 16:00); Closing hours: Monday, Tuesday (except national holidays, winter and summer vacations, Children's Day), Dec. 29th. Dec. 30th and the first two days of the Lunar Calendar.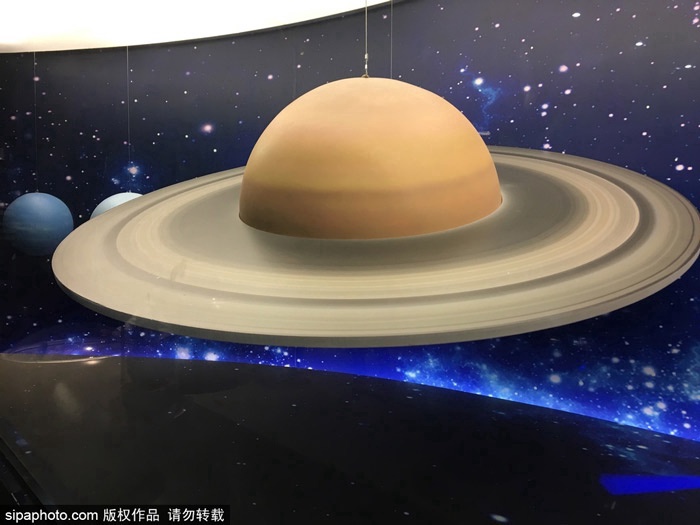 Ticket information:

Transportation: Metro Line 4, Beijing Zoo Station

Address: 138 Xizhimenwai Street, Beijing

Tel: 51583311, 68312517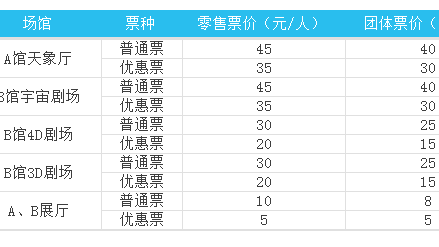 Paleozoological Museum of China

Paleozoological Museum of China (PMC) was established by the Institute of Paleontology and Paleontology of the Chinese Academy of Sciences. It is the first national-level natural science museum that take paleontological fossils as its carrier to systematically popularize the knowledge of paleontology, palaeoecology, paleoanthropology and evolution. It is also the largest paleozoological museum in Asia. It is also the base of national youth science and technology education, Beijing youth education, science education of the Chinese Paleontology Association, and ideological education of the Central State Organs. In December 1995, Paleozoological Museum of China was officially opened to the public.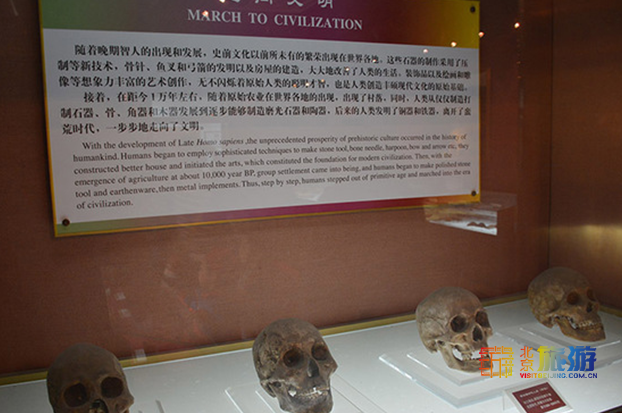 According to the evolutionary sequence of creatures, Paleozoological Museum of China is divided into two halls (Ancient Vertebrate Hall and Shuhua Ancient Human Hall), four exhibition rooms (Ancient Fish-shaped Animals and Ancient Amphibians Exhibition Hall, Ancient Reptiles and Ancient Birds Exhibition Hall, Ancient Mammal Exhibition Hall, Ancient Human and Palaeolithic Exhibition Hall), and includes special exhibition halls such as East Hall and VIP Hall. Relying on more than 200,000 specimens collected by the Institute in the past 100 years, nearly 1,000 representative collections selected from them are exhibited. The exquisite exhibits and complete types are the best in Asia and China. There are various prehistoric paleobiological fossils and paleolithic specimens and models produced in the strata from the Cambrian period more than 500 million years ago to 10,000 years ago, including jawless and jawed fish-shaped animals, Amphibians, reptiles, birds, mammals and ancient human fossils and paleoliths, etc., fully depicting the magnificent history of the natural remains of prehistoric animals and ancient humans and the evolution of their lives.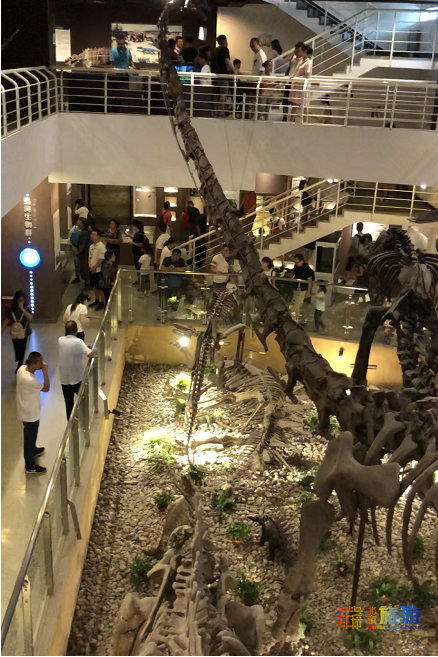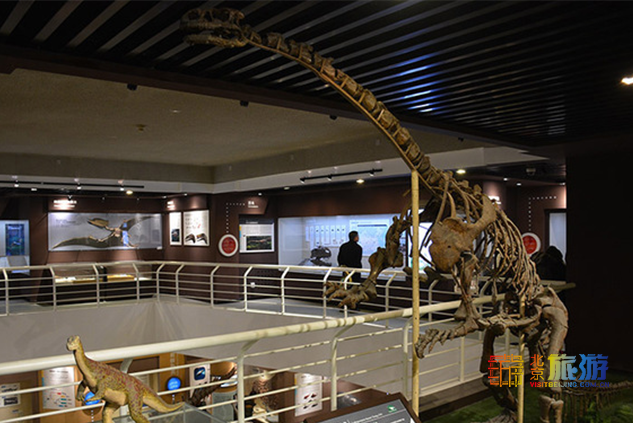 The precious exhibits on display at Paleozoological Museum of China include the special gift "living fossil" Latimeria from Africa, Mamenxisaurus, the largest dinosaur in Asia, and the Lufengosaurus known as "China's first dinosaur", the skeleton of the ancient animal Yellow River Elephant which is compiled into our primary school textbook, and the simulation model copied before the mysterious "Beijing Ape Man" skull was lost, as well as feathered dinosaurs, the world's first ancient bird with a horny beak, and the world's first wing Dragon embryos, mesozoic mammals that can eat dinosaurs and other rare specimens that caused a sensation in the world. Through rich exhibits and stories, as well as a variety of multimedia electronic game equipment that integrates science, interactivity and entertainment, audiences can fully and systematically understand the knowledge of the evolution of prehistoric life while enjoying themselves in the Museum.

The "Little Darwin Club" founded by Paleozoological Museum of China regularly organizes popular science teaching activities such as expert science lectures, field trips, fossil excavation, screening and repair, and model making. It is an extracurricular school for paleontology enthusiasts of primary and middle school students.

Tickets: 20 yuan for adults; 10 yuan for 1.3 meters and above kids, seniors (60 years old and above), and active duty (with valid certificate); children under 1.3 meters and disabled people are free of charge. 3D movie tickets are sold for 10 yuan, and the broadcast times are during public holidays, statutory holidays, and winter and summer holidays; members of the Little Darwin Club holding a valid membership card can visit for free, and the accompanying parent (only one) is also free of charge.

Opening hours: 9:00-16:30, ticket sales will be closed at 16:00, closed on Monday.

Address: No. 142, Xizhimenwai Street, Xicheng District, Beijing (300 meters south of Beijing Zoo to the west; 50 meters west of Beijing Planetarium)

Tel: 88369280, 88369210, 88369390

Transport: Get off at Exit D of Beijing Zoo Station on Metro Line 4, walk on the left for 800 meters to the west along Xizhimenwai Street.

Note: the Beijing Planetarium and Paleozoological Museum of China are not yet open due to the epidemic.

3. Children Theatre

China National Children's Theatre (CNTC) in Wangfujing must be your first choice for watching children's plays. It was established in 1956 as a national art academy directly under the Ministry of Culture and Tourism. China National Children's Theatre shoulders the responsibility of the inheritance, development and innovation of children's theatre in China, and plays the role of representative, demonstration and guidance of a national art theatre.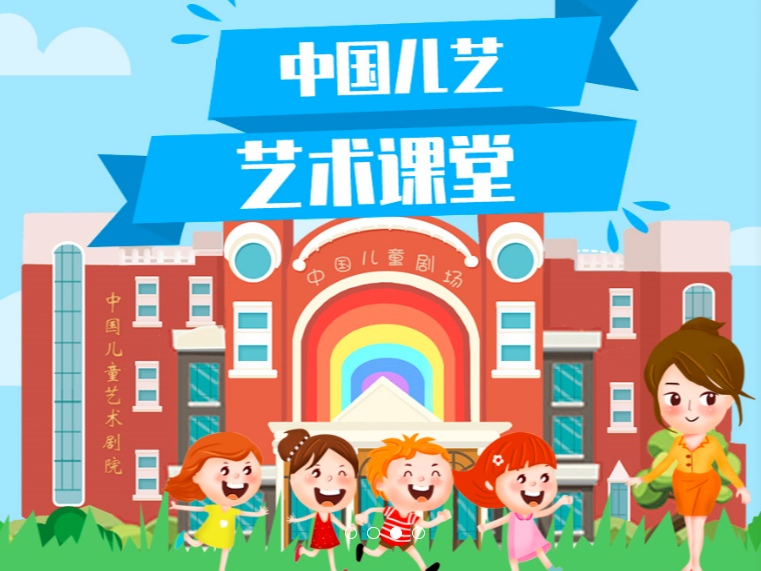 China National Children's Theatre has created and staged many excellent ancient and modern dramas over the past decades, such as "Malan Flower", "Flying Out of the Earth", "A Revolutionary Family", "Young Guards", "In the Name of Revolution", "Yue Yun", "Treasure Ship", "Newsboy", "There is Such a Small Courtyard", "Strange '101'", "Twelve Months", "Paul Kochagin", "Sparkle, the Stars", "Zhiyazi", "The Beginning of World and Human", "Moonlight Lullaby", etc.; repertoires that have been created and staged in recent years include "Little Tadpoles Finding Mom", "Chinese Zodiac", "Journey to the West", "Pippi · Long Socks", "Snow White and the Seven Dwarfs", "Canned Villain", "Little Jeep, Change, Change, Change", "Three Little Pigs, Change, Change, Change", "Little Truck, Change, Change, Change", "Special Assignments", "Aesop's Fables", "Little Prince", "The Frog Prince", "Little Match Girl", "Marvelous Stories of Xiao Bu Tou", "The Chinese Story in the Pocket", "Three Monks", "Peter Pan", "Idiom Rubik's Cube", "Mu You Cun", "East Sea Mermaid", "Red Tassel", "King in Mimi Valley", "Time Forest", "Little Princess", "King Lear", "Goats don't Eat Paradise Grass", "Flower God", "Snipe, Mussel and Fish", "Moongrass", "Seesaw Tree", "Leaves Girl", "Little Mermaid", "Stars in the Fire", "Where is the Mother of the Little Butterfly?", etc. They have travelled all over China and more than 20 countries on the world's five continents for exchange performances, and have won wide acclaim.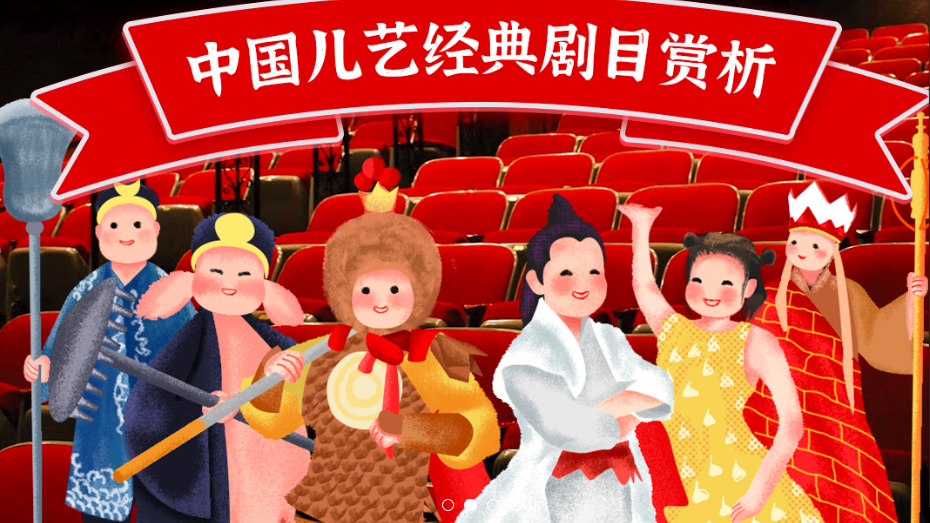 China National Children's Theatre's "China Children's Art Theatre" was named by Song Qingling, the former Honorary Chairman of the People's Republic of China. "Holiday Classic Theatre" was established in 2005, both providing countless audiences with colourful and beautiful top-level children's theatre arts, and has become the centre of contemporary Chinese children's theatre.

Ticket purchasing:

Enjoy a 12% discount on our Website: http://cntc.mypiao.com;

Enjoy a 12% discount on WeChat: zgeyzxgp;

Taobao: http://zgey.taobao.com;

Tel: 4001016161 (Monday to Sunday: 9:00-20:00, in case of performances on Saturdays, Sundays and evenings, working hours will be extended to 30 minutes after the end of the performance);

Purchasing (collecting) tickets on-site at the ticket office of China National Children's Theatre; or at the self-service ticket vending machine.

Transport: Take Metro Line 1 to Wangfujing Station, and go north from Exit A to the intersection of Wangfujing Pedestrian Street and Dong'anmen Street, walk for 200 meters towards west along the south of the road to reach CNCT; take Metro Line 5 to Dengshikou Station, walk west from Exit A along the Jinyu Hutong to the intersection of Wangfujing Pedestrian Street and Donganmen Street, and walk 200 meters on the south of the road to the west, you can reach the CNCT.

Address: No. 64 Dong'anmen Street, Dongcheng District, Beijing (Wangfujing Pedestrian Street North Exit, 200 meters to the west, you can find it on your south)

Tel: 010-65134115