"This way...higher...this way..." We had hardly reached the door when we heard the voice of Xiao Guisen. Xiao is a representative inheritor of the national intangible cultural heritage of conjuring and has long been dedicated to inheriting and promoting classical magic tricks. Seeing us coming, Xiao left the decoration of the conjuring studio to others and began to chat with us about conjuring.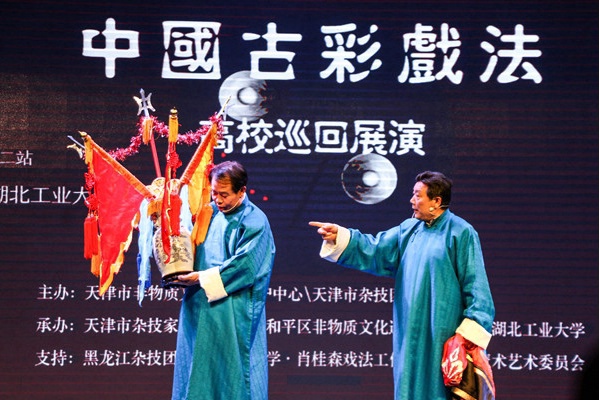 Most people know little about magic tricks. Probably they have not even watched a real magic show. In fact, classical conjuring refers broadly to traditional Chinese magic. It highlights an antique performance style and is therefore called "classical conjuring" or "ancient magic."

Tianjin is known as the "cradle of conjuring." It is one of the major city inheritors of classical conjuring. Tianjin is characterized by many conjuring practitioners and famous conjuring masters. Master jugglers such as Zhang Baoqing, Han Bingqian and Zhu Liankui all started their conjuring career in Tianjin. At the end of the Qing Dynasty and the beginning of the Republic of China, they performed conjuring for a living and, at the same time, imparted conjuring skills at entertainment venues that came within nobody's jurisdiction, promoting the continuous development of magic tricks in Tianjin. With five or six inheritors each, all schools of conjuring rigorously passed down their skills. Their first-generation inheritors date back to the middle of the Qing Dynasty, and there was never a shortage of famous jugglers. Luo Wentao, Mu Wenqing, Yang Xiaoting, Chen Yanan, and Wang Dianying contributed enormously to the refinement of Chinese conjuring skills and the improvement of conjuring performances.

Xiao Guisen was born in Tianjin in 1956. He came into contact with traditional Chinese magic tricks purely by chance in childhood. This marked the start of his conjuring career. When he was young, he learned from Wang Dianying, a master magician of China's northern school of conjuring. In 1990, he formally acknowledged Sun as his master and became the latter's only disciple. For decades, Xiao Guisen has never given up on his magic tricks. In 2011, "Chinese Classical Conjuring" was included in the list of protected national intangible cultural heritage, and Xiao Guisen was recognized as the representative inheritor of this national intangible cultural heritage project. Xiao Guisen is concurrently a member of the China Acrobats Association, a member of the National Conjuring Art Committee, a consultant to the Tianjin Acrobats Association, and a juggler of the Tianjin Acrobatic Troupe. He has won the Best Actor award at the Golden Aster National Conjuring Contest and the Merlin award, one of the highest-level awards for magicians from the International Magicians Society.

Xiao Guisen inherited the northern conjuring art from his mentor, Mr. Wang Dianying. His representative programs include small magic tricks like Yuan Yang Bang, Liu Lian Huan, Zhi Tiao Bian Yu (Sheer Magic), Gao Liang Zao Jiu, Xian Ren Tuo Yi, etc. and big magic tricks (Gowned Magic) such as Jin Yu Man Tang, Pan Tao Xian Cai Ping Sheng San Ji, Ji Qing You Yu, San Cuo Zi and Gen Tou Ba Jian. Among them, the close-range "Hand Magic" performance is incredibly unique. The magician performs magic as he speaks so his speech combines with his magic, bringing together magic tricks and humorous crosstalk. "Hand Magic" features the geographical characteristics and language of the North.

Status Quo of Conjuring: Nearly Lost

"China used to have over 300 magic tricks; now we have only 100 magic tricks. This is a quite terrible outcome," Xiao sighed. "We were planning to perform conjuring abroad. But people said no one there would want to watch it and we must introduce it to foreigners as Chinese classical magic so that we would have an audience. Our performance was well received abroad. Conjuring is in an awkward position now. Most of all, few want to learn it. As a result, it has got almost lost. At present, we are actively passing on and promoting magic tricks so it is better understood by people."

Inheritance and Development of Conjuring

Reviving Traditional Art

Traditional magic tricks are a branch of conjuring. Some programs with northern characteristics originated in Tianjin. Xiao said, "I grew up in this circle and followed the footprints of the troupe. I watched many such programs with my master and father. They are particularly interesting, but now no one can perform them. The old magicians are already dead. What a pity!" Xiao said this with a heavy sigh, "It will be a big loss if we don't pass it on! Those programs are quite entertaining; they are both interesting conjuring and fascinating magic tricks, performing well-prepared magic in an amusing way. Most of these programs disclose the cliffhanger. Disclosing the cliffhanger means the magicians purposely let the audience see their vulnerability after their performance. The two magicians teased each other on the stage, just like in a crosstalk. One of them tries deliberately to ruin the show and the other tries to hide the mistakes, provoking ripples of laughter. Finally, they tell the audience how they did it. Explaining how they did it makes the show perfect. We performed conjuring several times before, and the response was positive!"

A student asked after one performance, "Now that the trick has been decrypted, how can others perform it?" Xiao's explanation on visitbeijing.com.cn is that the cliffhanger is disclosed in several ways and that intentional disclosure is allowed in the conjuring circle. Formerly, explicit regulations were laid down as to which can be disclosed, and which cannot. Today, no regulatory body oversees conjuring. Almost every aspect of it is disclosed online to attract the audience. This is detrimental to the development of conjuring. The reason for allowing decryption is to spark the public's interest in magic tricks. This type of programs has existed for more than 100 years, and I still have a collection of conjuring videos recorded 30 years ago!

Intangible Cultural Heritage on the Campus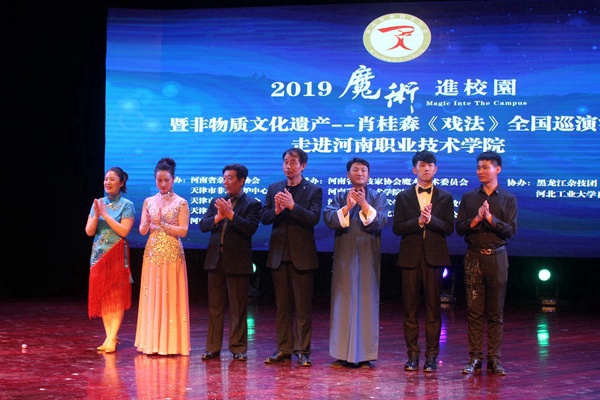 To better carry forward conjuring, Xiao Guisen and his team entered campuses through intangible cultural heritage platforms. They mount displays in primary schools and say, "Look, this is conjuring." The purpose is to leave an impression on the students. To stimulate the interest of middle school students, Xiao shows conjuring half of the time and explains it in the other half. For college students, lecture is the main form of teaching. Xiao Guisen has set up a conjuring studio at Hebei University of Technology for demonstration and teaching purposes. In 2018, Xiao received a letter from Huazhong Agricultural University inviting him to give a lecture there three days after he opened his Weibo account. He showcased conjuring in front of the students, explained its history and inheritance and the differences between magic tricks and conjuring, and told them how to become a magician. The response was highly positive. Over the years, Xiao's team has been to colleges and universities in Tianjin, Wuhan, Nanjing, Gansu, Shanxi, Shandong, Zhengzhou, and Xi'an to introduce young people to magic tricks through performances and lectures.

Building a professional conjuring team

Natural endowment differs from person to person. Some can perform on the stage after one or two years of learning, and some may take longer. To be a juggler who can perform independently on the stage and popularize the program all on his own, one must invest huge amounts of time in it. Conjuring is unlike studies in school, where students can go over what they have learned and seek help from books. As a rule, an apprentice who learns conjuring can understand the outline given by the teacher if he can perform it. If he cannot perform it, he will fail to understand the outline. The key to being a "mature" actor who can handle everything with ease on the stage is to stay close to the teacher and hone his skills. It takes a long time to produce an excellent juggler.

Xiao said, "Magic shows today are isolated, individual events. Actors who can perform systematically and meet performance standards are scattered all over the country. One province may have one actor, and another may have two. We are far short of professional performance teams. It is one thing to have actors who can perform magic tricks, quite another to generate income through performance. It is not easy to convince people to buy your tickets. Xiao's partners, disciples and students form a small team. Some of them are civil servants, some are college students, and some are acrobats. Occasional performances can gather people, but it is quite difficult to get the resources needed for show tours in the long run. "We are numbered, but it is a start. As the saying goes, 'A journey of one thousand miles begins with one step,'" said Xiao. "At the same time, I hope the state can give us policy support, such as providing theaters and other performance venues. Actors should focus on performance, not on management. This way, we can better inherit and carry forward magic tricks. In addition, actors should have a clear idea of market demand so that they can better serve the audience and make them happy!"

Flexible Imparting of Skills

In the past, those who wanted to learn a craft had to formally acknowledge someone as their master. Willingness to teach on the part of the master was the prerequisite to apprenticeship. Starting from 2009, Xiao Guisen accepted apprentices to inherit the traditional culture and pass on intangible cultural heritage. By 2019, he has had 4 disciples and a number of students. In 2009, he accepted Wang Ying and Wen Bojie as his apprentices; in 2012, he accepted Zhou Weixiong; in 2014, he accepted Chen Mei. Xiao Guisen's disciples are exceptionally talented, each with a set of special skills.

"Before the establishment of the Intangible Cultural Heritage Platform, we relied on our own efforts, subsidizing teaching with performance. This kind of inheritance meant teaching for free, and anyone who learned the craft was treated as an apprentice, even if he has not been formally acknowledged as an apprentice. We taught our students wholeheartedly and let them eat and live in our apartments—all at our expense. I teach anyone who wants to learn it." Xiao said earnestly, "If you know how to perform conjuring, we can talk about it; if you like and want to know about it, I can teach you."

Very few magic tricks have been handed down. To pass them on, Xiao is considering writing a book that includes all the magic tricks he is capable of. His moves will be accompanied by photos and illustrations so later generations can draw on the book. Xiao is looking for a publishing house that is willing to cooperate. With experience plus this reference book, a good actor can go further in his role as a magician!

Conjuring is Going Global

As a magician, Xiao Guisen has always remained committed to this traditional art in the past 50 years or so, making continuous efforts for the inheritance of classical Chinese magic tricks and giving performances to the best of his ability. In addition to giving performances in multiple Chinese cities, he has also been invited to participate in many well-known TV shows, such as Hunan Satellite TV's "Day Day UP," CCTV's "Seven Days during the Spring Festival," "I Love Applause," "I'm Going to the Spring Festival Gala" and Beijing Satellite TV's "Inheritors." He has also been invited to serve as judge or performing artist in various conjuring events, such as the Baofeng High-end Forum on Magic Tricks held in Henan, the Acrobatic Forum at the Wuhan International Acrobatics Festival, and the Beijing University Students' Exchange Conference on Magic Tricks. At the same time, he introduced conjuring in the United States, Japan, Germany, Austria, and Switzerland so that more people in the world could have the opportunity to watch Chinese conjuring and witness its magic power.

China is home to many ancient crafts, many of which have been lost, and some hang on by a thread. Anyway, some have stood the test of time, thanks to those who struggle to lend their support.