The Regain Element is a 2-story brewpub situated in Wudaoying, Beijing's famous hutong block.

Sitting at the second floor, you can overlook the grey-brick roof of siheyuan courtyards. The pub is at arm's distance from Yonghegong Lama Temple Station. Its factory-style decoration makes you feel neat and clean.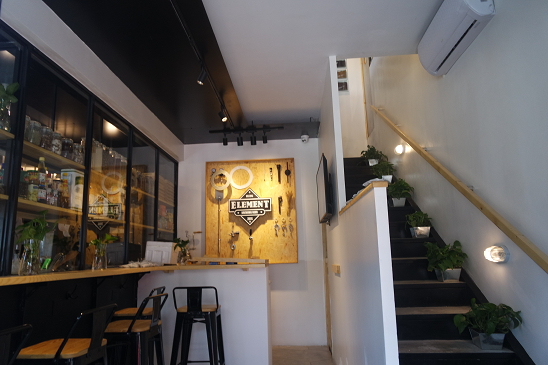 It offers various crafter beer featuring poetic name, such as Midnight IPA, the Shade of Childhood IPA, Seeing Double IPA, and Low Altitude Flying Stout… A glass of beer ranges from 35 yuan to 50 yuan.

Here, you will also find brewery brands from Beijing as well abroad like Hefeweizen and Vanilla Coffee Stout from NBeer, Monkey's Fist IPA from Slow Boat, Ghost IPA from Harvest for the local craft beer lovers; Goose Island's Honkers, Boulevard's Tank 7, Rogue's Double Chocolate Stout for the imported beer drinkers and etc.

Snacks and dishes to go with beer are provided. Salad, French fries, pickles, peanuts and other main dishes like burgers and sausages can be tasted.

Address: East Gate of 10 Wudaoying Hutong, Dongcheng District东城区五道营胡同10号院东侧口内

Opening Hours: Daily 2pm-late

Tel.: 186 1141 1109