Yanqing District, located in northwestern Beijing, is the venue for Beijing International Horticultural Exhibition and upcoming Winter Olympic Games.

Rich in natural resources, the picturesque natural landscape of Yanqing is a beautiful painting showcasing the versatile face of Beijing.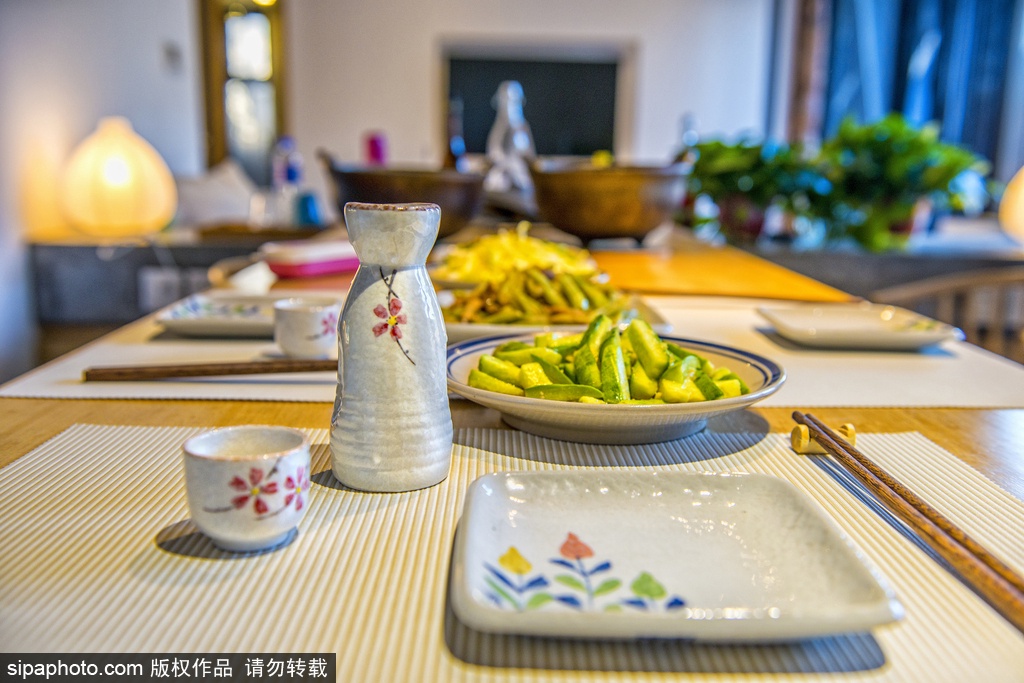 Nestling at the foot of the Great Wall, Shixia Village boasts of a time-honored history, a great number of tourist attractions and the bracing air, making itself a best place for getaway. So, Shiguang Great Wall Boutique Guest House, located here, is a good choice for accommodation. Now, the guest house has over 20 courtyards dotted around the exuberant, tranquil village steeped in history. In a class of their own, the yards are fully furnished with modern conveniences and dedicated services that can rival starred hotels, promising the understated luxury. Enough of the rooms, what about the food here? Never miss the calling card -- rustic banquet cooked on stone . All ingredients of the delicacy come from locally grown vegetables, cereals and livestock. Hence, at Shiguang Great Wall Boutique Guest House, you can look forward to a slap-up lifestyle that features idyllic gastronomic delights, intimate accommodation experience and infinite rustic charm, not to mention a closer touch to the country lifestyle. Moreover, the guest house offers two kinds of experiences, cultural experience (the academy) and the folk custom experience. Heeding the call of the latest fashion trend, the two experiences have found favor with a host of tourists.

Address: Shixia Village, Badaling Town, Yanqing District 延庆区八达岭镇石峡村

Tel.: 010-81181252

Nestling in a small village, the peaceful guest house gets its name from a hawthorn. Although far from the urban hustle and bustle, it is set buzzing. With the comprehensive occupancy rate of 65%, it has been honored as the most popular guest house and the first batch of boutique demonstration guest houses in China for two consecutive years. Moreover, it enjoys easy access to a dazzling array of scenic spots like Yanqing Four Seasons Flower Sea, Baili Landscape Gallery Scenic Spot and Baihebao Reservoir.

Address: Xiahujiao Village, Liubinbao Township, Yanqing District 延庆区刘斌堡乡下虎叫村

Tel.: 18601381278

Situated at Donglongwan Village, Jiuxian Town, Yanqing District, Zuolin Youshe Boutique Homestay neighbors Longwan International Camping Garden. Designed by a Peking-University-trained team, the homestay offers a contemporary take on the idyllic neighborhood space. And, perfectly combining with local cultural innovation activities and products, it sets the scene for the all-round experience of the pastoral life.

Address: Donglongwan Village, Jiuxian Town, Yanqing District 延庆区旧县镇东龙湾村

Tel.: 13810585950

Yuanxiangli is a boutique home stay brand themed on boreal country life. Yuanxiangli Shuiquan Inn No. 031 sits at Shuiquanzi Village, Zhenzhuquan Township, Yanqing District. Nestling at the foot of mountain and by Caishi River, the inn features the well-preserved exterior and structure unique to traditional houses. With grey bricks, green-gray tiles, wooden beams and mud walls, it presents an artsy quality and strikes a chord with strangers coming from North China who feel homesick.

Address: Shuiquanzi Village, Zhenzhuquan Township, Yanqing District 延庆区珍珠泉乡水泉子村

Tel.: 13521471204

Situated at Zhangshanying Town, Yanqing County, the courtyard is within about ten kilometers from tourist attractions like Yudu Mountain, Longqing Gorge, Guyaju Caves, International Grape Expo Park and Badaling Great Wall. Although it holds only six rooms for 16 guests, you can look forward to any kinds of pleasure. Moreover, it is the stomping ground for self-driving travelers. Having drunk and eaten your fill, you can ensconce yourself on the mountain viewing platform -- counting stars, playing guitar or surveying the Yingmeng Temple far away. When you wake up in the morning, you would be greeted by the greenery outside the window, the blue sky and white clouds over your head, the secret fragrance, the peaceful chirping and the distant green mountains.

Address: Jinjiabao Village, Zhangshanying Town, Yanqing District 延庆区张山营镇靳家堡村

Tel.: 18210980817