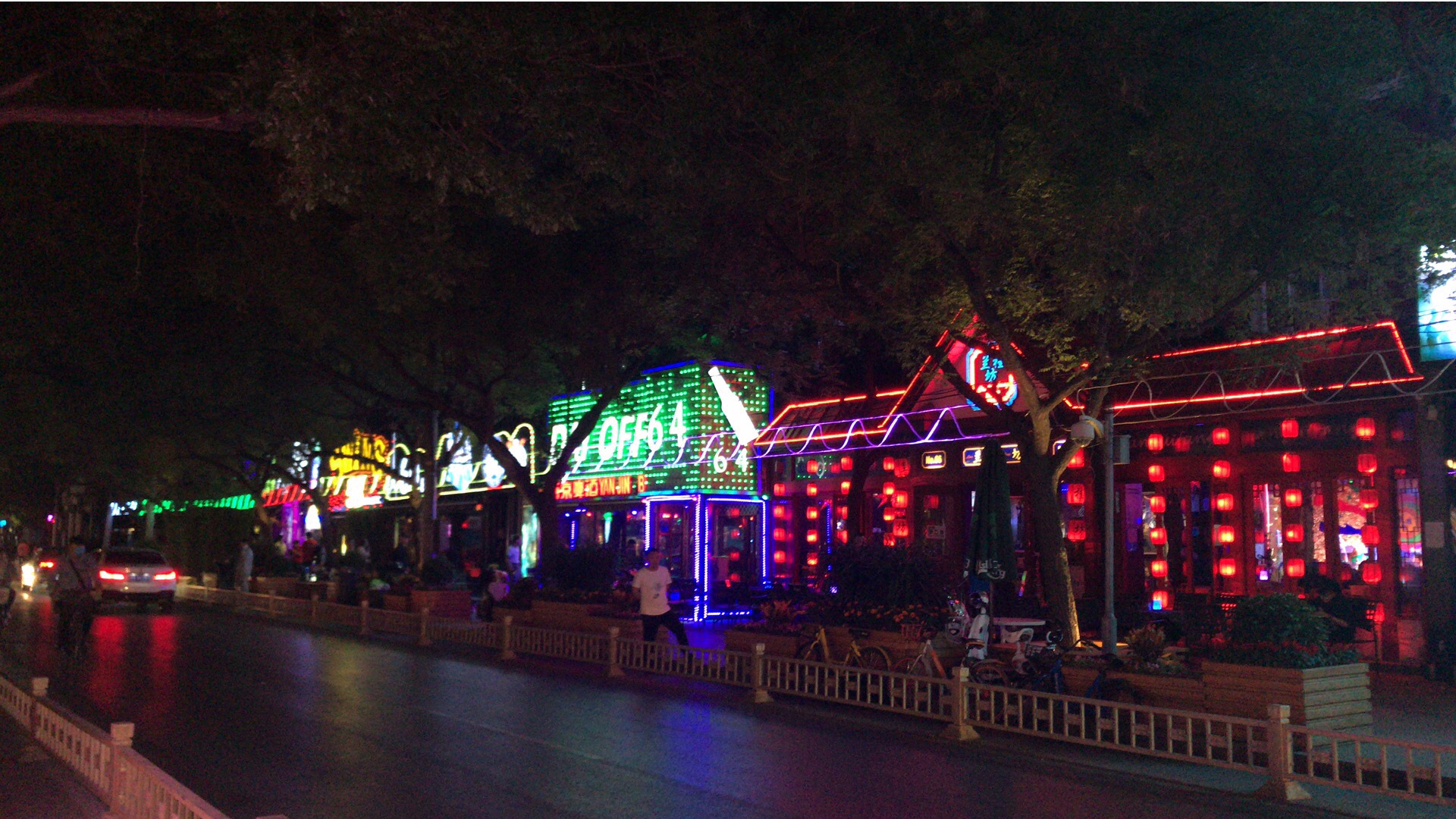 Among numerous bars in Sanlitun, D Lounge is one of the popularities. In spite of its prosaic facade, the arch gate with unique design is offbeat and makes an impression. When pushing the heavy door and walking into the bar through a deep and dark corridor, you will find a different world in it. Black and grey arch crown, like in an old castle, mysteriously modernizes the bar. The whole interior is designed in Gothic style. Smoking and non-smoking areas are separated from each other, leaving an area without smoke swirling. Usually, it will be quiet here around seven o'clock in the evening and night people almost flock after about nine. World-class bartenders as well as come as regular guests. In the evening, various wines, band performance and hot music will revel all the night.

Tel.: 010-65937710

Address: No. 4 Workers' Stadium North Road, Chaoyang District, Beijing 北京市朝阳区工体北路4号院

Nestled in the Legation Quarter, RÓNG BAR boasts a tranquil and pleasing ambience. It is a quiet oasis compared with other bars among bustling Sanlitun area. Up to the upstairs, a "secret garden" lies at the second floor. This bar gives a lot of care to the overall decoration, green plants and chic lamplight decking out every corner. With soft and easy jazz wafting in breeze, it is enjoyable to chat with friends on the bar terrace. All sorts of whisky are available here, as well as a number of self-made cocktails. If you are here for the first time and have no idea about what wine you want, ask the bartenders and they will know.

Tel.: 010-85323665

Address: No. 4-5 Sanlitun East 3rd Street, Chaoyang District, Beijing北京市朝阳区三里屯东三街4-5号

Charlie Chaplin Bar is a new Charlie Chaplin-themed bar offering various wines and western cuisine. The atmosphere here is quiet and reserved since it hidden in a residential building. Apart from the European style decoration and train compartment theme, the bar is decked out in countless knickknacks of Charlie Chaplin. In the intersect of an exquisite overall design, it is said that the lady owner has sought out all the sofas, dining tables, table clothes and other furnishings from around the world. A piece of furnishing article in this bar is a work of art, telling its bygone ages. One other point worth emphasizing is that there is no any menu, and you can drink whatever you want.

Tel.: 13488853994 13691116772

Address: Unit 1, Building 27, Sanlitun North Road, Chaoyang District, Beijing 北京市朝阳区三里屯北路27号楼1单元

Perched on a quiet and mysterious apartment block, Toy Box is a charming little bar in Beijing. It is well and truly hidden at upstairs from dimly lit staircase of below. Things will change since a push of its door: dimly lights, long and narrow bar counter, bottle-filled wine cabinet will jump into your sight. No menu here, but it will amaze you with all kinds of fine wines. Just tell the bartenders what you want, no matter how weird and playful, they will never let you down. Toy Box, like an affable home, leaves full place and freedom for your mind.

Tel.: 010-82552319

Address: No. 601, Door 5, Building 42, Sanlitun South, Chaoyang District, Beijing 北京市朝阳区三里屯南42号楼5门601

Hiding in plain sight, Hidden House is decorated in a unique and opulent manner, with a touch of mystery like her name. Hidden deep in the alley, the less visible bar is always crowed with guests. Especially, continuous stream of guests visit here and even wait in queue in the evening. Hence, you'd better arrive here earlier if you don't want to join in the long queue. Hidden House offers variety of wines with relatively expensive price about 200 yuan to 300 yuan per capita. It is an ideal place to have a relaxation over a glass of wine with friends on the weekend.

Tel.: 010-84185718 13466655804

Address: Room 8, Floor 1, Building 39, South of Beisanlitun Road, Chaoyang District, Beijing 北京市朝阳区北三里屯南39号楼一层8号