Junwangfu Natatorium

This natatorium near Sun Park enjoys convenient transportation and free parking, and features spacious and bright indoor environment, first-rate facilities, international standards professional swimming lanes filled with strictly disinfected clean and clear water, well zoned areas like the stream area, the shallow end for beginners and children, as well as the deep end for seniors to show their skills.

Address: No. 21, South Sun Park Road 朝阳公园南路21号

Yingdong Natatorium

This is a national swimming natatorium donated by Hong Kong entrepreneur Mr. Henry Fok, which is a venue for large swimming events, under strict management and with industry top environment and facilities including pools of different scales such as competition pool, training pool, diving pool and warm up pool, in addition to a pool for diving-qualification aimed practice. You need to present your deep water qualification certificate or acquire one before entering it. If you want swim here, you need to make sure in advance that there is no competition here at the very time you come.

Address: Olympic Sports Center, No. 1, Anding Road, Asian Games Village 亚运村安定路1号奥体中心

Water Cube Swimming Club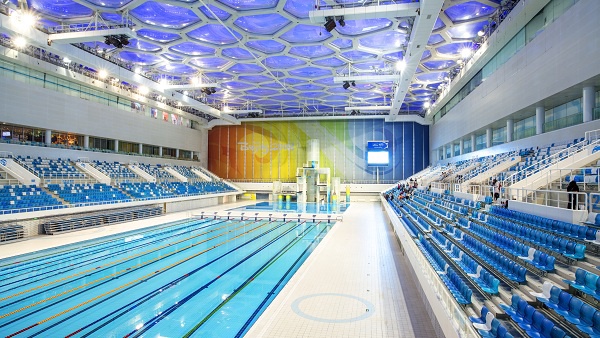 Water Cube Swimming Club as the Olympic Venue and National Aquatics Center is the one with the top cost performance, environment and facilities, group ticket price of only 48 Yuan including two-hour swimming and admission for visit. Although the swimming time is limited to two hours, it is quite enough to release your energy.

Address: National Aquatics Center, No. 11, East Tianchen Road 天辰东路11号国家游泳中心

Swimming Hall in BISU (Beijing International Studies University)

This swimming hall beside the International Exchange Center at the northeast of BISU is open to the public while you have to present your deep-water swimming qualification certificate for admission. Water quality is well controlled, the price is 40 Yuan and there is no membership card provided. The ticket can be bought only by cash or bank cards.

Address: Dingfuzhuang Nanli No. 1, in Beijing International Studies University 定福庄南里1号北京第二外国语学院内