Built in 307 A.D., the first year of Yongjia Emperor during the Western Jin Dynasty, the Tanzhe Temple boasts one of the oldest Buddhist temples in Beijing with a history of over 1,700 years. The Temple was built earlier than the Beijing city, so it's often said that "here came the Tanzhe Temple first, and then the Beijing city". The Tanzhe Temple was Jiafu Temple in the Western Jin Dynasty. It was later renamed Xiuyun Zen Temple by Kangxi Emperor in the Qing Dynasty and the name is still in use today. However, since there is a dragon pool behind the temple and cudrania trees at front, and "Tan" in Chinese means "pool", "Zhe" in Chinese means "cudrania", so people have got used to calling it "Tanzhe Temple". It is said that Beijing city was built according to the layout of Tanzhe Temple during the reign of Yongle Emperor of the Ming Dynasty.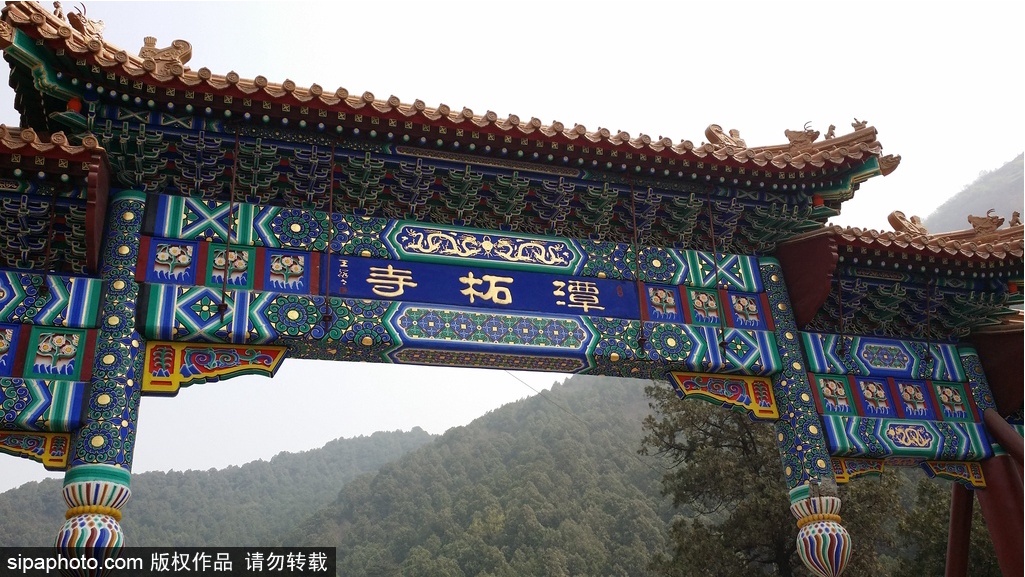 The Tanzhe Temple in north and the Lingyin Temple in south are recognized as the two most important temples of China in the history of Buddhism. Surrounded by nine mountains including Huilong Mountain, Huju Mountain, Pengri Mountain, Zicui Mountain, Jiyun Mountain, Yingluo Mountain, Jiayue Mountain, Xiangwang Mountain and Lianhua Mountain, Tanzhe Temple boasts a warm and humid climate, tall old trees, numerous pagodas and magnificent halls. The architectures of the temple are well-arranged according to the terrain with the decoration of bamboo trees and rare flowers, creating a picturesque environment.

The Front Gate is also called "Sanmen", meaning "Three Gates" in Chinese. It consists of one big gate in the middle and two small gates on both sides. The three doors symbolize the "Three Doors of Liberation" in Buddhism, including Emptiness, Signlessness and Aimlessness. Therefore, those who become a Buddhist monk or nun are described as the one who enters the Door of Emptiness. The gate of the Tanzhe Temple is a brick-stone structure without a beam. A horizontal white marble plaque carved with design of Chinese dragon is hung in the middle of the gate, with golden inscriptions in regular script by the Kangxi Emperor of the Qing Dynasty reading "Chijian Xiuyun Chansi" which means "Xiuyun Zen Temple built under the order of the Emperor.