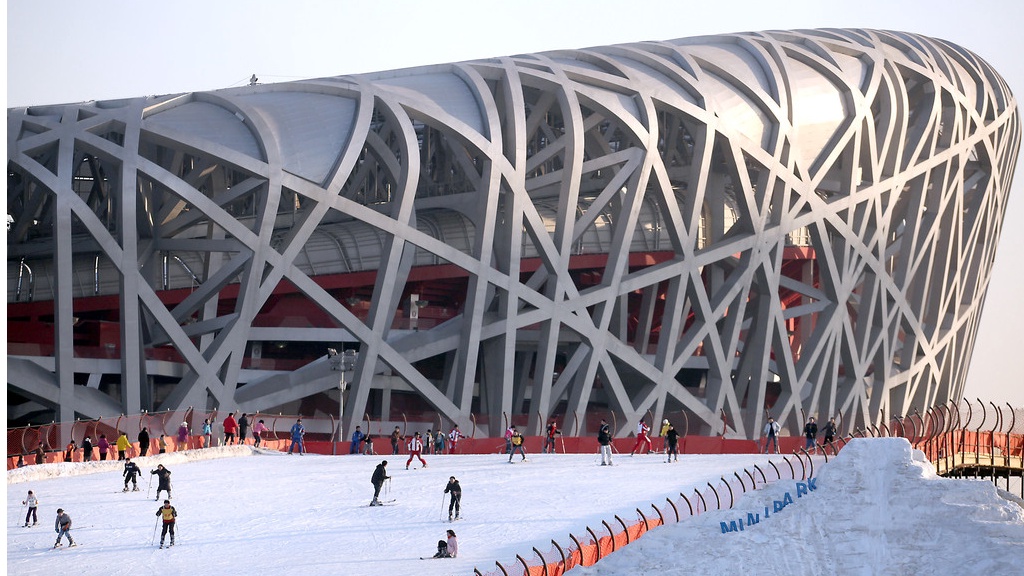 The largest skating rink in downtown Beijing, the Bird's Nest Ice Rink, greeted tourists on January 7. The skating rink is also the venue for the 9th Bird's Nest Happy Ice and Snow Season, which has gained great reputation in the past eight years. Tourists who spend 100 yuan can enjoy all the ice-based recreational activities all day long. What are you waiting for? Come on and experience the charm of winter. This year, a special course introducing the Winter Olympics has been set so that children can learn knowledge when playing.
  The Bird's Nest, or National Stadium was the main venue of the Summer Olympics where the wonderful opening ceremony took place. The National Stadium looks like a huge iron nest which is ideally placed in the Olympic Green. It can accommodate 90,000 spectators, with a construction area of 260,000 square meters. Highlights of the construction including how it works are showcased by photos, videos, and miniature models. Besides, other highlights of the 2008 Summer Olympics are displayed as well such as the torch, instruments, and the property of opening and closing ceremonies etc. You can also view the amazing landscape of the Olympic Green from the top of the stadium due to its having a 1000-meter long corridor established on the top floor. Now, events such as concerts, exhibitions and games are usually held in the stadium.
Tips:
Admission Fee: General Tickets 100 RMB (Except for Spring Festival Holiday)
Admission Hours: 9:00 – 21:00
Tel: +86 010 84373008
Currency exchange and free tour guide are available.
If you go:
#1 National Stadium South Road, Chaoyang District, Beijing.