Situated in the center of Beijing, Jingshan Park is a beautiful royal landscape garden. Covering an area of 230,000 square meters (about 57 acres), the park stands on the central point of the south-north axis of the city and faces the north gate of the Forbidden City. It is found on Jingshan Hill, which was originally named Wansui Hill (Long Live Hill), Zhen Hill or Meishan Hill (Coal Hill). The mid summit of the hill is the highest point in Beijing. Looking from the peak, the visitor is able to get a full and clear view of the Forbidden City.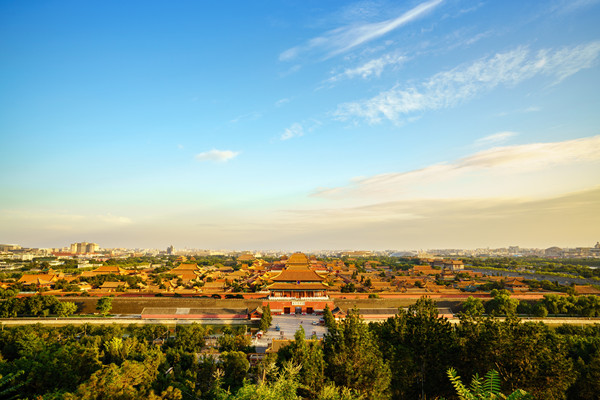 来源@视觉中国
During the Yuan (1271-1368), Ming (1368-1644) and Qing (1644-1911) dynasties, Jingshan Park served as an imperial garden and was properly laid out under the Ming Dynasty when numerous fruit trees were planted as well as many palaces and pavilions built for the emperor to make sacrifices to his ancestors. As a result, the royal families always enjoyed amusements here, like hunting in the hills. Then, in 1928, it was opened to the public. Later, after 1949, the park was fully rebuilt, with the paths in it paved and most of the buildings renovated. Now, the present is one of the 'AAAA' Scenery Spots in China and a 'must' for visitors to Beijing.
来源@视觉中国
Upon entering the front gate of the park, visitors can see the Qiwang Pavilion, embraced by the vigorous green cypresses. This was originally the place for emperors to worship the memorial tablet of Confucius. Surrounded by white marble balustrades, the two-storied pavilion with its golden-glazed roof appears quite dignified.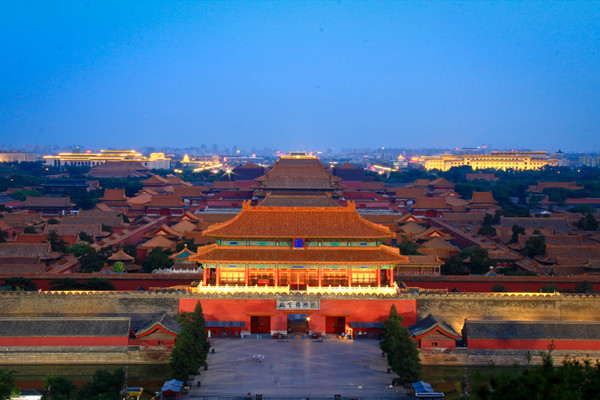 来源@视觉中国
The hill inside Jingshan Park has five summits, and on each summit there is a pavilion, built in 1751. In every pavilion, there was originally placed a copper Buddha statue which represented one of the five tastes-sour, bitter, sweet, acrid and salt. It is a pity that they were all lost during the warfare of 1900. Among the five pavilions, the Wanchun Pavilion (Ten Thousand Spring Pavilion), on the middle of the five summits, sits at the hill's central point of the city. It is a perfect place to appreciate the full view of the city. From this pavilion, visitors are able to see the resplendent and magnificent Forbidden City in the south, the dignified Bell and Drum Towers in the north, as well as Beihai Park and White Dagoba Temple in the west.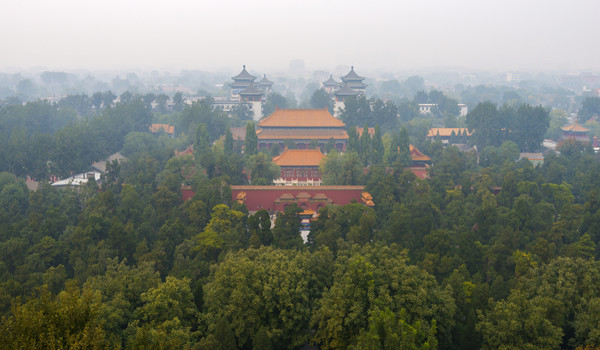 来源@视觉中国
In the north side of the hill is found the Shouhuang Hall (Hall of Imperial Longevity), originally the place for the emperors in the Qing dynasty to pay their respects to their ancestors. Some of the emperors' portraits were worshiped in it. To the east of the Shouhuang Hall, stands the Yongsi Hall (Missing Hall), the place for resting the dead bodies of the past emperors and queens.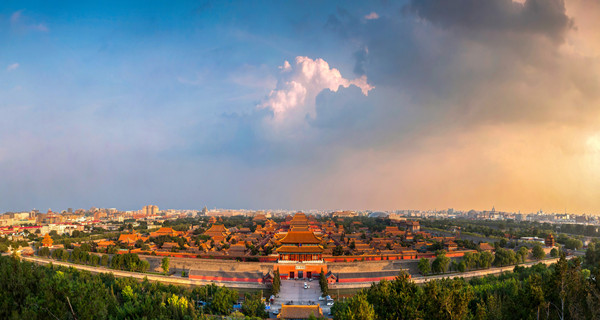 来源@视觉中国
Source: travelchinaguide.com