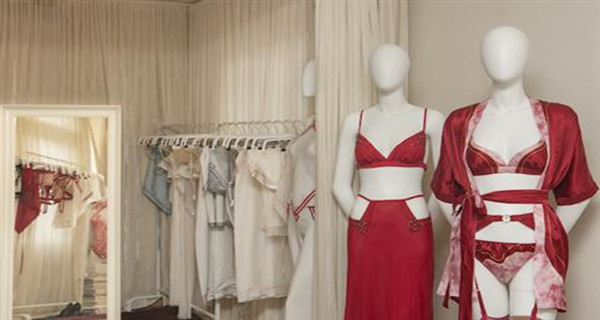 Taiwanese-American lingerie designer Irene Lu puts a modern spin on the dudou, China's traditional lingerie meant to cover what was your most important asset during the Qing era: your stomach.
The silky, backless, diamondshaped halter top is not what you'd expect to be sold on the racks of lingerie shops today, but during the Qing Dynasty, the dudou (肚兜) was considered hot stuff. The silky creations also showed off a woman's embroidery talents, as each dudou could be customised with hand-stitched designs. There's no padding, push-ups, or wiring. 'Just let them fly!' says Lu.
Lu first discovered the dudou during her studies at the Fashion Institute of Technology in New York, and later during her time working with famed film costume designer Tim Yip, whose work can be seen in films such as Crouching Tiger, Hidden Dragon.
She says Pillowbook's name is a reference to a sexy–and kinda sexist–Chinese custom.
In the Qing era, 'pillow books' were often given by friends and family members to would-be child brides, educating them about what was going to happen on their wedding night. India may have the Kama Sutra but, unbeknown to most, China also has its own saucy sex manual-a wooden scroll with carvings of different sexual positions. They worked as guidebooks, instructing women on how to pleasure their men. The small scrolls could be rolled up and kept under the pillow, hence the name.
Lu's small studio, located in Beixin Hutong, showcases beautiful handmade bras, shorts, silky knickers and fashion-forward dudous stitched with window-frame designs on the border. She even does adorable matching mother and tot versions of the dudou.
Pillowbook is still boutique enough to have a feeling of exclusivity: visits are by appointment only, prices range from 500-1,800 RMB and each creation is hand-made by a seamstress–so expect to wait around two-to-three weeks. If you really can't wait that long for your underwear, Lu has select sampling of off-the-rack creations
Address: 23 Beixin Hutong, Dongcheng District 北京市东城区北新胡同23号
Source: timeoutbeijing.com