Located in a secluded gorge in the west of Yanqing County, the Guyaju Caves (Ancient Cliff Dwellings) are about 50 miles (80 kilometers) northwest of Beijing. Occupying over 24.7 acres (100,000 square meters) on the steep cliff, it is the largest site of an ancient cliff residence community in China.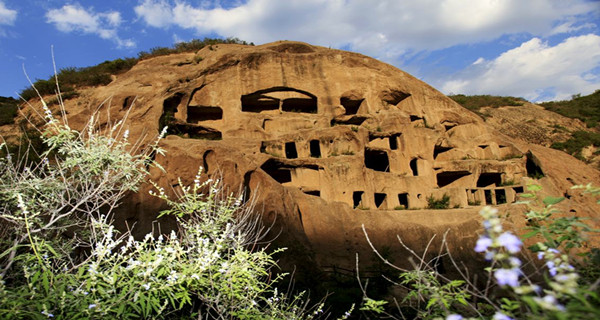 There are 117 caves in total, forming a cell-like spectacle on the cliff. Some experts calculate that it needed 100 people to work continuously for five years to complete such a large group of caves. It is regarded as the 'First Maze in China' and the 'Second Zhoukoudian Peking Man Site'. Ninety-one caves are scattered along the southern, northern and eastern slopes of the front gorge while a further twenty-six are located on the eastern slope of the rear gorge. It seems strange that most of the caves were chiseled out on the shaded slopes, having in mind the cold winter weather around Beijing.
The orderly location of the caves in the cliff face resembles a multi-storied building. The entrances to the rooms are adjacent. There are stone stairs, stone ladders, and bridges connecting the rooms on different floors. The caves have different sizes and shapes. No matter what shape the cave may be, they all bear features of modern dwellings. Although the stone rooms are generally rectangular, there are some that are square or round, about 5.6 to 5.9 feet (1.7 to 1.8 meters) in height and 3.3 to 19.7 feet (1 to 6 meters) in depth. The largest room is over 24 square yards (20 square meters) and the smallest only 3.6 square yards (3 square meters). There are some single rooms, some suites and many three-roomed apartments, none of which have pillars or beams.
Many traces of human occupation exist at the Guyaju Caves, such as the sites of gateways, windows, stone beds, closets, lamp stands, cooking stoves and horse mangers. The stone bed in the cave is large enough to hold two people. The rooms with horse mangers are stables which can contain four or five horses.
There is an exquisite duplex apartment located at the highest place on the cliff. It is called Guantangzi or Kumo Xi Chieftain's Mansion. Four exquisitely carved stone columns support the top of the cavern. Inside the capacious main hall there is a big bed in the center, and stone desks and stools.
Ticket: 55 RMB (Half Price on 5.19)
Transportation: Take buses 919 or 919 (express) from Deshengmen Station, and get off at Yanqing Dongguan Station. Transfer to Y1 and get off at Dongmenying Station, or transfer to 920 to Guyaju Station.
Source: travelchinaguide.com