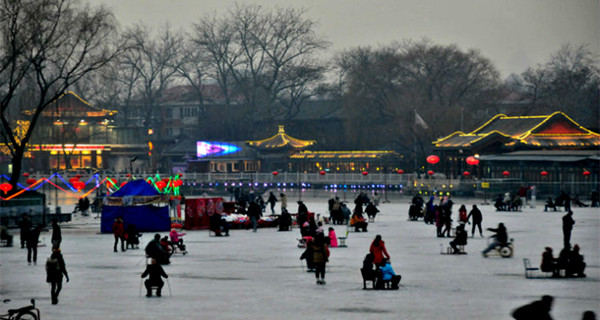 Opening hours: 18:00 - 22:00
Ticket price for the night skating:
Weekdays: 15 yuan/hour each person; weekends and holidays (Saturdays and Sundays): 20 yuan/hour each person
Ice skating gear rentals: Ice skating boots: 20 yuan each pair with 100 yuan as deposit, no time limit; Ice cart: 20 yuan each pair, with 30 yuan as deposit, not time limit.
The ice rink atShichahaiis always one of the most cared outdoor rinks in Beijing. This year's opening day began on January, 2016, and its night skating time began on January 3, 2016. Compared with the previous years, visitors prefer ice skating boots to ice carts. More and more people have come to visit the rink day and night. If visitors are too many, the site will limit population.
There is a 5.5 meter-tall ice slid, which attracts lots of visitors, especially kids. The atmosphere is even warmer than during the Spring Festival. Overseas travelers are also seen at the site. It is a place worth going in Beijing this winter.