Since the establishment of Beijing city, there have been Beijing snacks. The traditional cuisine of the ancient capital is mouthwatering. It is said that those who have eaten over 13 specialties can truly understand Beijing snacks.

Wan Dou Huang (Pea Flour Cake)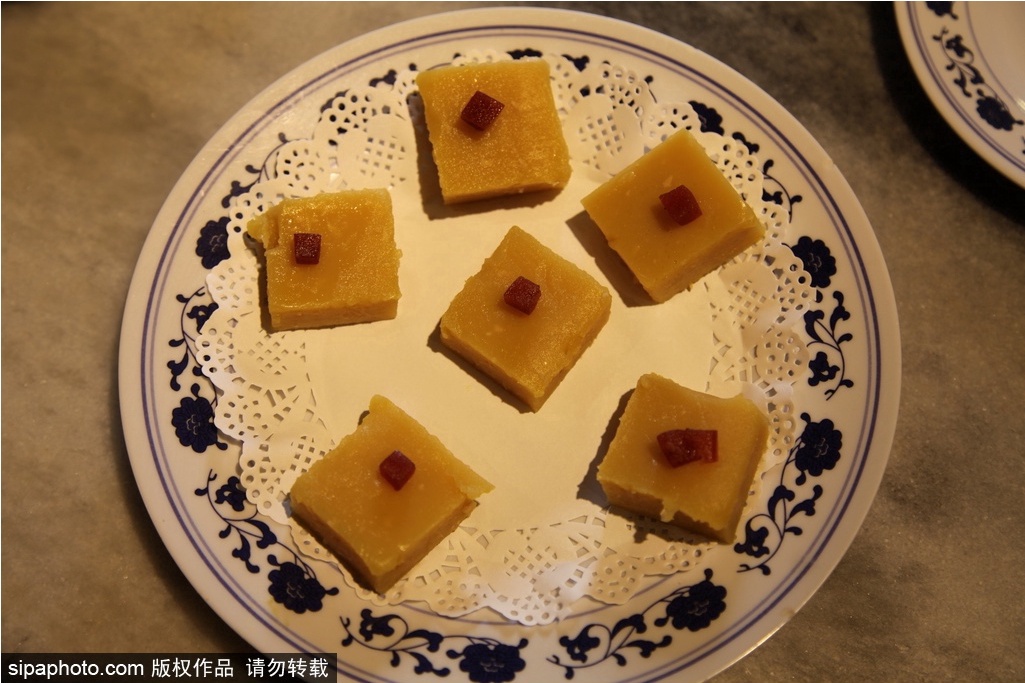 Made with white peas, pea flour cake is a favorite springtime snack, and was very popular among members of the imperial court. It looks bright yellow and has a refreshing and mild sweet taste. The best part is its fine and smooth texture, it will melt in the mouth. Pea flour cake has been a favorite snack of the royal family since the Ming Dynasty. It is also eaten as a ceremonial dish on the third day of March, according to the Chinese calendar.

Aiwowo (Steamed Rice Cakes with Sweet Stuffing)

Ai wo wo, or steamed rice cakes with sweet stuffing, is made of glutinous rice or millet flour with sweet filling. It first appeared during the Yuan Dynasty (1279-1368) and was a favorite of the imperial families of the Ming Dynasty. Traditionally, it is eaten from the Lunar New Year to the end of summer, but it is now sold throughout the year.

Lvdagun (Rolling Soybean Cake)

Lvdagun, or rolling soybean cake is one of the most famous traditional snacks in Beijing. It takes soybean flour as the main ingredient. Actually it is named from its metaphorical meaning for its appearance. Among the complex procedures to make this snack, the last step is to sprinkle some soybean powder on it, and it is the yellow powder that makes the name giver think of the dust in the air raised by donkeys when they are rolling and playing on the ground in the suburbs.

Tangjuanguo (Glazed thin pancake with Chinese yam and jujube stuffing)

The main ingredients of the snack are Chinese yams and jujubes, together with walnuts and melon. After steaming or frying, it is covered with sugar. The snack tastes sweet and is very nutritious.

Tang Erduo (Fried sugar cake)

Also known as honeyed doughnut, the ear-shaped snack is a common Beijing snack. Immediately after taking the shape of an ear, Tang Erduo needs to be soaked in tepid maltose water before it gets cold. It is a snack that is often served in spring, autumn and winter. Honey is likely to fall because of it is done in summer. Brownish yellow honeyed doughnut tastes smooth, soft, sweet and delightful.

Jiangsi Paicha (Shredded ginger crisp thin fritter twist)

Shredded Ginger crisp thin fritter twist is also known as crisp thin fritter twist with ginger soup, crisp thin fritter twist with ginger crisp, crisp thin fritter twist with honey. It is a typical Beijing snack. Though it is a famous snack, it is not hard to make it at home. All you need to do is steep ginger into water and then roll a flour ball using ginger soup. Later, you roll the flour ball into smooth, evenly distributed flakes and then put starch on it. After piling all the flakes up, you need to cut them into cakes 2 cm wide and 5 cm long. Put two pieces together and cut three times in the middle. You scatter them and fry them using mild oil and fire. Next, put honey onto fried cakes and put sugar into ginger soup before collecting all the shredded ginger. When the water boils, you put maltose into it and continue cook it using small fire. Then you put fried cake into the ginger soup before getting the snack dry.

Miancha

The snack is a paste made from millet flour, sesame sauce, sesame oil, pepper balls and salt. It tastes salty and sweet. Old Pekingnese are used to drinking it along the edge of the bowl.

Sanzi Mahua

Sanzi Mahua (fried dough twist), or Huanbing (ring-shaped cake) is a kind of wheat-based food shaped like a fan. The flour-made food tastes crispy and sweet. Huanbing is said to have existed as far back as the Warring States Period, and it has become a must-eat food for the Cold Food Festival since the Qin and Han dynasties.

Hama Tumi (Toad Spit Honey)

Hama tumi, or toad spit honey is a cake with red bean stuffing and a crack on the surface. During the process of baking, a natural opening will appear at the border that makes the name giver think of spitting honey.

Jiaoquan (fried dough rings)

Old Pekingnese enjoy Jiaoquan together with Douzhi, but not everyone could endure the taste of Douzhi. Jiaoquan tastes crispy and looks golden after frying.

Tanghuoshao (Sweetened baked wheaten cakes)

Sweetened Baked Wheaten Cake is a common breakfast for Beijingers that enjoys a history of more than 300 years. Baked with brown sugar and sesame sauce, the cake is fragrant, sweet and rich in taste. It is soft, tender but not sticky, so it's more suitable for the elderly. People use a jar as furnace baking the snack. The baker only needs to stick rolls onto the wall of the jar, hence its name.

Chaogan (Stewed Liver)

Chaogan is a kind of traditional cuisine of the Han nationality in Beijing. It is made from pork liver and pork intestine, seasoning with garlic and dressing with starchy sauce. Chaogan used to be served with steamed buns, but now there is no particular way to eat it.

Naiyouzhagao (Fried butter cakes)

Fried butter cake, or Naiyou Zhagao in Chinese, is one of the local snacks with rich nutrition in Beijing. The round fried butter cake has an aromatic flavor. The cake has high calories, but if you like sweets, you cannot miss it! It tastes crispy with the sweet of butter.